March is a month of contrasts. It's not quite spring, but not exactly winter anymore. You're likely to get a sunny day; you could also get a blizzard.  In short: anything can happen in March.
In that way, it's the perfect month for a new historical romance by USA Today bestselling author Anne Mallory.  In one of Anne's books, you're certain to get suspense and wit, scholarship and passion.  In short: yep, these are really delicious books.
To coincide with the release of her newest novel, One Night is Never Enough, Anne recently answered a few questions for us.  Read on for her favorite time period, her drink of choice, and what makes her tear her hair out.  Anne's also offering a giveaway this month:  two signed books to a random commenter!
Anne, thank you so much for virtually stopping by.  I'm really delighted to have you here!
So great to be here, Theresa!  Thank you for having me!
One Night is Never Enough is the second book in a series that began last year with Seven Secrets  of Seduction. How did the series develop? Did you envision it as a series when you started writing Seven Secrets?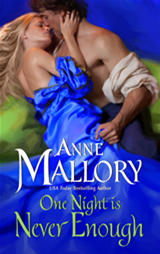 Seven Secrets of Seduction started as a standalone.  It wasn't until I was writing Secrets that the idea for One Night developed.  Charlotte, the heroine of One Night, sprang fully to life in a scene at the end of Secrets – and the Merrick brothers, who I mentioned very briefly as the owners of a number of hells in Secrets and another book, kept poking their heads up.  The two threads met in my head and liked each other, and One Night Is Never Enough was born. 

Your books tend to blend romance with elements of mystery and intrigue. Do you usually start with characters, or with a plot idea?
I have to give the dreaded answer of – it depends.  For me, some ideas scream PLOT and the plot toll-road opens wide.  Other ideas close down the highway for maintenance, but there is a hitchhiker jumping up and down yelling, "Pick me!  Pick me!"  It is mildly disturbing when I think on it that after 10 books I still don't have THE way that works all the time.  I tend to go with the excitement (whatever keeps me in my chair writing!!).
But on average, I do a combination of plot and character building blocks – constructing a little of one, then a little of another, forming them into a pair, then going back to build more of the first, repeat, repeat, as I go farther.  Some books can be right beasts though – all character or all plot springing forward, and the other dragging behind (and probably yelling obscenities all the while).
Your heroines have included a bookseller, an antiquarian, a political caricaturist, and a ghost whisperer. What are some intriguing tidbits of research you've turned up in the course of writing these strong female characters?  How did you choose Charlotte Chatsworth, the heroine of One Night?
When it comes to heroines and studying history, I always find it refreshing and inspiring that there have been strong women in every time period.  No matter what the social mores or the climate of the time, there have always been women bucking the system and paving their own paths.
With Charlotte, I wanted to write a woman gripped by the tension between her external and internal desires – feeling like she is going to explode from the expectations surrounding her and springing from her.  A woman determined to work within the confines of her world but also desperate to pave her own path.  I found her a very interesting character to write.  Her wants, her needs, and her desires are all at odds.  Which I think happens very frequently to women in the real world.
In One Night, the hero, Roman Merrick, wins Charlotte in a game of cards—from her debt-plagued father, no less.  But both sophisticated Charlotte and ruthless Roman are more than they seem.  How did you develop such different characters into the perfect match for one another?
In Seven Secrets, and at the beginning of One Night, Charlotte is trapped by the circumstances of her family and accepts that she must do her duty.  She is a woman who knows marriage for her will be a business transaction – but yearns for more.  She required a match who could break her free – make her need to break free and satisfy that yearning.  Someone who would turn her world on end.  In that way, I built Roman for Charlotte, at first.  His ruthlessness and charm only aided that aim.
But I quickly figured out that a man like that simply couldn't be used (I loved, loved, loved writing Roman, so he evolved rather quickly in my mindset).  He demanded that Charlotte match him in every sense.  So I tried to construct them both, bit by bit, scene by scene, in a way where they satisfied the deepest desires of the other, while throwing everything else around and inside of them into turmoil.  Because when those deepest desires are being satisfied, both characters want more, more, more, regardless.
Out of all of your books, has one story or character been your favorite to write, and why?  (Don't worry, we won't tell the others.)
Ha!  Some books are easier to write than others.  Whether that is because the idea gels in the brain more quickly or a good moon is overhead…  One Night Is Never Enough was a fun book to write and I immensely enjoyed doing so– the main problem with it was that I could have made it 600+ pages long.  I'm not kidding.  I have a folder of unused scenes that I couldn't use and keep the book within word count.  If you had told me while I was writing my first five books that eventually I would overwrite, I would have choked on my own laughter and told you to tweak the settings on your time machine…
Favorites…whatever I am currently working on is usually my favorite.  That being said, once a book is finished, it gets put into the "past book" category and there are past books I like better than others.  I can be bribed with chocolate in person. 

What is your writing routine like?  What do you do if you ever get stumped for ideas?
When I am in active book writing mode, I write Monday – Friday.  When I get closer to deadline, weekends become heavily involved.  My writing routine involves prodigious use of black breakfast teas and occasionally glazed doughnuts.  I figure the tea use has to cancel out the doughnuts somewhat, right?
Stumping issues…I love to brainstorm, so ideas aren't usually a problem.  But if I have one of "those" books, where the characters or the plot take over and leave the other aspect behind, then melding the pieces together can be murder.  I usually have to do a lot of rotating, in those cases, to figure out how the pieces fit the puzzle.  Let's just say I have torn out a few strands of hair in the middle of a Starbucks before…  I try to brainstorm on paper when this happens.  The act of using a pencil and making loops on a page can help.  And if all else fails, I'll try writing a different scene and hope it will connect me back and provide the answer subconsciously.
Your books usually take place at the end of the Regency or shortly after—that is, in the 1820s.  Why did you choose this time period for your work?
The period of 1820-1825 fits my story ideas best usually.  It is a great time of change, but also an insidiously quiet time in some ways.  Great forces working just under the main current – lots of potential for interesting happenings. 

What are a few of your favorite books — romance novels or otherwise?
Too many to list, but I have always been a dear fan of Julie Garwood's historicals and Amanda Quick.  I also read a lot outside the genre and quite a bit of non-fiction.
What's next for you?
I just finished the connected book to One Night Is Never Enough, which will be out in October, and am starting a new project.  What do you think – 1822 or 1824? 

Thank you so much for having me as a guest, Theresa!!  Can't wait to read SEASON FOR TEMPTATION in October!!
Thank YOU, Anne!
And now, a few questions for you all! Anne's heroines have held all kinds of professions, from the scholarly to the mysterious. What talent or occupation do you most like to read about in a historical romance?  Or, more broadly, what are your favorite historical romance scenarios? When did you start reading historical romance?
Comment with your answer to any one of these questions, and be entered to win two signed books (your choice!) from Anne!  (See Anne's bookshelf here.)
Anne Mallory is a lifelong romance reader who sold her first novel to Avon Books after becoming a finalist in RWA's Golden Heart contest. One Night Is Never Enough is her tenth book. A native Michigander, Anne currently lives in the San Francisco Bay Area. Anne is happily working on her next book, One Kiss Leads to Another, a connected story to One Night Is Never Enough. Visit Anne on the web at www.annemallory.com.
Contest Rules: To enter, leave a comment on this blog post.  The contest will close at noon ET on Thursday, March 31, 2011.  I'll select a winner from among all entrants using random.org. Your chances of winning depend on the number of comments – so don't spam, but feel free to get all sociable-like to increase your odds. I will announce and contact winners no later than April 2, 2011. Winners will have one week after notification to provide me with their snail mail addresses; then an alternate winner may be selected. For shipping reasons, only US residents are eligible to win.