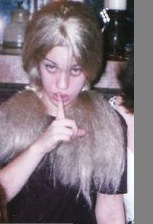 Since I chucked a Spice Girls reference into this post title, here's a picture of me dressed as Baby Spice from…oh…1998? I guess this is my atonement for not wearing a costume yesterday. (No, that is very extremely not my real hair.)
But more important than my youthful escapades are: my adult escapades. I'm visiting some fun and fascinating new sites this week, and this time Mr. R is coming with me.
First off, my dear friend Spiceaholic (not her real name), who runs the delicious food and cooking blog Spice's Bites, is hosting me for historic food talk, recipes, and a book giveaway! Stop by today or tomorrow and share some foodie insights of your own, and be entered to win a signed copy of SEASON FOR TEMPTATION.
Today, Mr. R is accompanying me to A Writer's Salon, the blog of "fiery tales" romance writer Lila DiPasqua. But it's not Lila doing the interview–it's her husband! Come see what these two romance husbands have to say to one another. I admit, I learned a few things from Mr. R's interview. Like how he saw himself on our second date…oh, you'd better just come read it for yourself. Another copy of SEASON's up for grabs there!
So there you have it: spicy food and spicy reads. It's a new month, so spice up your life!
OH HAI WAIT: I know that would have been a totally smooth ending for this post, but I have to share some fantastic news. It has been a week since my last confession, and since then–SEASON FOR TEMPTATION's gotten a sequel! My publisher, Kensington Zebra, will be publishing SEASON FOR SURRENDER (Louisa's story) in October 2012. Hip hooray! Nice Nice!