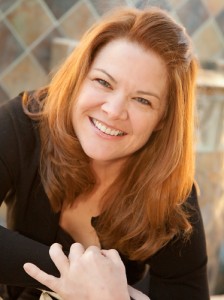 If variety is the spice of life, then things are about to get really spicy here, because Joan Swan is the first romantic suspense author I've featured on my site. She's also 1) a whirlwind of positive energy, 2) willing to answer questions about trees, and 3) author of the steamy debut novel FEVER, which is being released February 28 by Kensington Brava.
Another fun fact? Joan and I share an editor and agent. So naturally we had to sit down for a virtual chat about romance genres, her inspiration for FEVER, and…yeah, that tree question. (Sorry about that, Joan.)
Firstly! Here's the cover copy for FEVER:
Dr. Alyssa Foster will admit to a bad boy fetish…

But when she finds herself face to face with a convicted murderer with a ripped body, a determination for freedom and an eye on her as his get out of jail free card, Alyssa knows she's in deep trouble…. Not just because Teague Creek is a prisoner desperate for freedom, but because his every touch makes her desperate for more.

A man with a life sentence has nothing to lose…

Teague Creek has one shot at freedom, but his plan to escape with a hostage develops a fatal flaw: Alyssa. On the run from both the law and deadly undercover operatives who know of his strange abilities, he needs to avoid trouble, but every heated kiss tells him the fire between them could be just as devastating as the flames that changed him forever.
Let's find out a bit more. Thanks, Joan, for being here!
*     *     *
Your debut novel, FEVER, is a sexy mixture of suspense, mystery, paranormal ability, and road romance. What draws you to romantic suspense, and what inspired the plot of FEVER?
Romantic suspense intertwines two types of intensity, providing a deeper experience. When romantic suspense is done well, the two threads are interdependent on each other. Without the romance, the suspense would fizzle. Without the suspense, the romance would fall flat. The two storylines give the writer endless opportunities for conflict and tension, and offer the reader a rollercoaster of excitement, allowing for maximum escape. Conflict, intensity and depth–that's what draws me to romantic suspense.
FEVER developed from one of those "What if..?" moments in my own daily life. I've been a sonographer for twenty years, and one of the hospitals where I worked gained a huge prisoner clientele over a year's time span. I went from scanning two or three prisoners a week to scanning five to eight prisoners every single morning. I spent half my day surrounded by guards and inmates.
The more I understood their routines and procedures, the more clearly I recognized how easily something could go wrong–with something as simple as one tip off from someone inside the hospital to a prisoner's family member, or one officer off his game that day. Many, many times I was left in dangerous situations with prisoners that should have never been allowed to exist. I was lucky; nothing ever happened. But that didn't keep me from thinking, "What if…?" Everything else stemmed from there.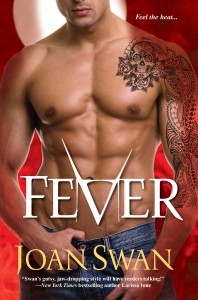 With a book called FEVER, it's important to have a hot cover. Success! But your cover's also got some symbolic elements. Can you tell us more about your hero, Teague, and his tattoos?
The tattoos on the book cover are not the same as the tattoos Teague sports in the book. That's because the tattoos in the book signify orientation to a racially motivated prison gang. If you've watched any prison show or even know a little about prison life, you'll know that inside prison, all inmates stay alive through affiliations. If not through a gang, through another powerful protective force, like a lover or a boss. In prison, gangs are racially oriented–white supremacists, black, Asian, and Mexican. If you're Mexican, don't be expected to be welcome in the African American gang.
Teague is Caucasian. He's successfully stayed alive in prison for three years. Therefore, he has conformed to a certain degree to the Aryan Brotherhood ways. His tattoos are based on his affiliation with that gang, but there is an even more significant element to the tattoos that I can't divulge here. Let me just say, I can promise you'll love it when you find out in chapter eight of FEVER.
Teague escapes prison with one of his gang brothers. This gang brother, unlike Teague, is a true Aryan believer, and when he encounters my heroine who is part Asian, acts in perfect white supremacist fashion and is very generous with racial slurs, as he is when they run into a group of black gang bangers at a different point in the story. This character is arrogant and cruel and unpleasant, but had I put a white supremacist with an Asian and African American and left out the racial slurs, the book would have been inauthentic.
Not to worry, readers! Karma–something I'm a firm believer in–comes back for this character, even before you discover the secret to Teague's tattoos!
What do you love the most about your hero and heroine? What do you think readers will love the most?
What I love most about Teague and Alyssa is that they're both such strong people. I especially love how this ordeal brings out both their survival streaks as well as their softer sides. Teague has been put through hell unjustly, yet has retained his human decency. Alyssa has been dragged into this against her will, but has retained enough compassion to recognize a man in need.
What I think readers will love most about Teague and Alyssa is their chemistry. They are well matched and challenge one another at every turn—emotionally, physically, intellectually.
FEVER kicks off your "Phoenix Rising" series. Did you always foresee the story as part of a series? Are there continuing plot threads?
I saw Phoenix Rising as a series because the plot for FEVER included a specialized group of firefighters, and the more I got to know the group, the more I realized each member would need their own story. Don't they always? 🙂 Therefore, each novel will have its own individual plot as well as continue the overarching plot for the series.
Here's a look at Phoenix Rising: A mysterious explosion at a military warehouse injuries a team of seven hazmat firefighters, killing one. The contents of the building, extremely confidential and dangerous radioactive chemicals used by the Department of Defense in secretive scientific experiments, have inflicted the team with various paranormal abilities. Abilities the government wants to study covertly. Abilities the team wants to understand and expose. With military advancement and national power at risk on one side, and personal health and freedom on the other, each group is fighting for precious stakes.
What is your writing routine like? How do you balance writing with other demands on your time?
I have no real routine. I wouldn't be picked first for the gymnastics team—my balance isn't what it should be or could be. Well, okay…it sucks! I'm easily distracted as well as a master procrastinator. Not a good combo. I typically work best under pressure—for production, not emotional stability. Balance is something I'm constantly working on.
What's an intriguing tidbit of information you've turned up while researching your books?
Oh, boy, all kinds of stuff! And, wow, useful, too–like clover tattoos on the knuckles are an Aryan Brotherhood insignia, and Glock semiautomatics don't have safeties. But best of all, I learned that human antibiotics are used to treat common fish ailments and are sold over the counter at pet stores. Bet you can't wait to see how I used that one in FEVER!!
If you were a tree, what kind would you be? (I've always wanted to ask this.)
I had to ask my husband this. He immediately answered aspen, because their roots spread underground and there are always new shoots sprouting up everywhere.
If you knew my penchant for starting new creative ventures (as in not just a new hobby, but turning that hobby into a business of some sort) every time a fresh idea sparked me, you'd be laughing your ass off right now. We were at breakfast when he told me this and I actually spit up my drink.
As an aside, when I was checking my data to make sure my hubby was right (not that he isn't always right *eye roll*), I found another little interesting fact: aspens are able to survive forest fires because their roots are below the heat of the fire and new roots grow after the fire burns out.
I think one of the reasons I'm always trying new things and starting new ventures is because even when things go wrong or I'm disappointed, I may hibernate for a while, but for some reason my hopes never seem to fully die out. Before long, I'm ready to try something new again.
How's that for analogy? 🙂
[TR: That is a world-class analogy. I love it. And I'll never dare ask the tree question again. Who could top that answer??]
What's next for you?
I'm currently revising a 2x Golden Heart finalist manuscript, which I plan on publishing as an Indie ebook in April. It's a romantic suspense that I absolutely love and am enjoying bringing life into with polished writing techniques.
I recently finished a revamp on my option proposal to Kensington to continue the Phoenix Rising series with INFERNO, and I hope that goes through because I'd love, love, love to write Quaid and Jessica's story.
Many thanks, Joan, for this interview. And congratulations on the upcoming release of FEVER!
*     *     *
We promised you a contest, and you shall have it. Pop over to the Contest page of my website and enter anytime in February for a chance to win a copy of FEVER! Joan's debut releases February 28, and the contest ends February 29. The winner will have a choice between the print and digital versions. Cool, huh? (Please note: If you leave a comment on this post, you won't be entered in the contest. But you will get to chat with Joan!)
Or if you want a sure thing, you can pre-order FEVER any number of places: Indiebound • B & N • Powell's • Books-a-Million • Amazon
Joan Swan is a triple RWA® Golden Heart finalist. She writes sexy romantic suspense with a paranormal twist, and her first novel with Kensington Brava, FEVER, debuts Feb. 28, 2012.  BLAZE follows in October 2012.  Currently, she works as a sonographer at a one of the top ten medical facilities in the nation, and lives in magnificent wine country on the central coast of California with her husband and two daughters. Visit Joan on the web at http://joanswan.com, or find her on Facebook, Twitter, or her blog.