You've heard Sally MacKenzie's name before, maybe as:
one of the authors whose books I–and hopefully you–must gobble up as soon as they are released.
Yes, Sally wears all those hats, and recently she has added a new chapeau to the stack: with the release of April's e-novella "The Duchess of Love," she kicks off a brand-new Regency series of the same name. The first novel, Bedding Lord Ned, will release on June 5–and Sally's offering a signed copy to the winner of the May contest. Read on for more info about the Duchess series, the role of pets in romance, and the importance of choosing the right meal plan. And then–the giveaway!
*     *     *
Sally, thanks so much for being here!
You're best known for your "Naked Nobility" series—a series that grew over time to include seven novels, two novellas, and several sets of friends and families. By contrast, your new "Duchess of Love" trilogy takes place within one family. How was it different to envision and plan these different types of series?
I think the greatest difference is that the Duchess of Love series was actually planned where the Naked books grew somewhat haphazardly.  But I'm a "pants-er," so planned is a relative term.  I think all my books focus on families in some way, so the process of thinking about those relationships–between parents and children, mothers and fathers, siblings–is the same.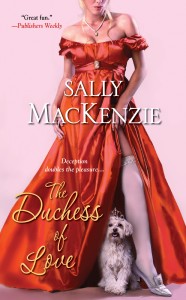 The premise of your new series is unique: Venus Collingswood, the young woman who's the heroine of the first novella—"The Duchess of Love"—becomes the matriarch for the rest of the series. We don't often see parents getting their own romance, even at an earlier point in life. How did you come up with Venus and Andrew's story?
I think the idea of doing the prequel novella was actually my agent's.  My initial synopsis had the mother a widow who would marry in the last book.  But once I went with the prequel idea, I couldn't kill off the duke!  Even if my readers would accept it, I couldn't do it.  It would seem too cruel.  However, this also meant the oldest son couldn't be a duke as he was in my synopsis; he had to take a lower courtesy title as he's still only the heir.  Gotta love historicals!
You've raised a houseful of sons, and so has your duchess. Did any of your own parenting experiences come in handy while you planned the stories for your new series?
It's always somewhat dangerous to draw parallels between real life and fiction.  The short answer to this question is, of course!  But then I think everything authors write must be informed in some way by their own lives–how else could you write something if you had no experience at all with it?  Research, yes, and I guess parenthood IS a kind of research.  Sometimes I write things not based on something that happened in even the vaguest sense of the word, but because I'm exploring a question.  How would a widower feel, for example, and how do people learn to love someone new when they've had such a loss?  Writing can be trying on various answers to see how they work.
I like to write male point of view, but of course that is all a lie.  I may think, through observation and interaction, that I know what is going on in the male head, but I know I'm fooling myself.  I suspect the male mind is very alien territory.  Men are not simply women in pants.
And, again, I am a pants-er.  To say that I planned anything is a bit of a stretch.  I have a general idea of where I'm going, but the characters really decide for me.  If they start talking, I'm not about to interrupt!
In the Regency era, many marriages ended with the early death of a spouse, and Lord Edward Valentine is a case in point. Better known as the title character of Bedding Lord Ned, he's your first widower hero. [Sally, correct me if I'm wrong on that!] Was it a challenge to balance his past losses and present romance?
Yes, Ned's my first widower, and yes, the balancing act was an interesting challenge.  Ned and Ellie were childhood friends–and Ned's wife was Ellie's best female friends.  So there were many layers of feelings and interrelations to explore.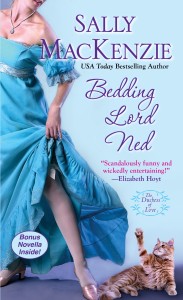 The covers for "The Duchess of Love" and Bedding Lord Ned both include a pet animal. What sort of role do pets play in the stories?
The funny thing is, I don't have any pets myself–I had a pet turtle briefly as a child, but that's the extent of my animal history.  So I hope I get them right since they do tend to show up in my books.  I think my original inspiration in this as in many things Regency is Georgette Heyer.  She used pets to great advantage.  I find them wonderful sources of comedy and action or simply an available ear to listen to a character ruminate.
In "The Duchess of Love," Archie, Venus's family dog, is responsible for her going to the pond where she meets her hero, the Duke of Greycliffe–though she initially confuses the duke with his cousin.  So Archie is her partner in crime.  In Bedding Lord Ned, Sir Reginald–or Reggie–the duchess's cat, is the leading "criminal."  He likes to steal things from the guests and hide them under Ned's bed–especially the heroine's scandalous red silk drawers.
In honor of the matchmaking Duchess of Love—have you ever served as a matchmaker, or had someone try to matchmake for you? How did it go?
Oh, dear, no!!  I have no aspirations to matchmaking.  I guess my "matchmaker" was the law school dorm's kitchen. There's where I met my husband.  If he'd opted for the meal plan, my life would have been very different as  we were in sections that never had classes together.
What books and events are coming up for you?
I'm furiously working to finish Jack's story, the second book in the Duchess of Love series, and then it's on to book three, the oldest son's book.  And I still have to find a dress for our third son's wedding (second son to marry) this summer.  He and his fiancée want to have the rehearsal dinner at our house, so at a minimum major cleaning must ensue.  And I'm planning to be at RWA National in Anaheim this July.
Thanks again, Sally!
Now Sally has a question for us: Everyone likes to say how they met their significant other, don't they?  Anyone use a matchmaker?  My oldest son met his wife via one of those online dating companies.  Are those services 21st century matchmakers?  So, readers, please share how did you meet your "hero" (or heroine, if we have any male readers.)
*     *     *
Readers, thanks for joining us for the interview today, and I hope you'll share your matchmaking stories. For the giveaway of the signed copy of Bedding Lord Ned, click on over to the Contest page and fill out the form there. (Please note: if you comment here, you won't be entered in the giveaway. But you will get to chat with Sally!) The print version of Bedding Lord Ned is even more fun than most novels by Sally, because it includes her "Duchess of Love" novella as a bonus. Cool, eh?
*     *     *
About Sally: A native of Washington, DC, Sally MacKenzie still lives in suburban Maryland with her transplanted upstate New Yorker husband. She's written federal regulations, school newsletters, auction programs, class plays, and swim league guidance, but it wasn't until the first of her four sons headed off to college that she tried her hand at romance. Please visit her home in cyberspace at www.sallymackenzie.net, or find her on Facebook or Twitter.
Order "The Duchess of Love" (e-novella, available now): amazon.com bn.com
Pre-order Bedding Lord Ned (print book; ebook also available; releases June 5): kensingtonbooks.com amazon.com bn.com booksamillion.com indiebound.org