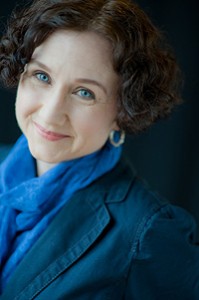 Every once in a while, there's a book that everyone wants to read, because rumor has it that it's just. That. Amazing.
At the turn of the year, Cecilia Grant's debut, A LADY AWAKENED, was that book. And you know what? Rumor was absolutely right: it was just. That. Amazing. It really was. Now her second book, A GENTLEMAN UNDONE, has just hit bookstores, and it's also–well, you can probably guess.
I twisted Cecilia's arm–which, over email, is quite a feat–until she agreed to join me for a Q&A. (Actually, I hardly had to twist at all, because she's very kind.) Read on for more about Cecilia's awesomely unconventional characters, her favorite research tidbits, and her upcoming projects.
While you're here, please enter the giveaways! I promised you two (check the post title), and I meant it: Cecilia is giving away a copy of each of her books. A LADY AWAKENED is featured as the June contest prize, so you'll have all month to try your luck there. And here on this post, Cecilia is offering a signed copy of her new release, A GENTLEMAN UNDONE. This is a short-term giveaway for commenters, closing June 4.
*     *     *
Cecilia, thanks for being here!
Your new release, A GENTLEMAN UNDONE, tells the story of a ruthless professional gambler–and that's just the heroine. How did you develop the character of Lydia Slaughter, and what makes her the ideal match for your ex-soldier hero, Will Blackshear?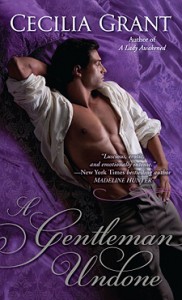 I started writing Lydia at a time when I was irked by what struck me as the fetishization of female innocence in romance. You know, those books where, if the heroine isn't technically a virgin when she first has sex with the hero, then at least she's never enjoyed it before, or perhaps she thinks she's enjoyed it, but then she gets with the hero and it's earth-shatteringly better than anything she's had before.
While on his side you get the "He'd been with so many beautiful and skilled courtesans, yet none of them had ever aroused him like this innocent, with her untutored response" kind of thing. It creeped me out a little, to be perfectly blunt.
Now, I've lightened up on this somewhat over the years. Realistically, a lot of the gentry/upperclass Regency single ladies would be virgins, and also I recognize the inherent, attractive drama in the occasion of the First Good Sex. My initial goal with Lydia, nevertheless, was to write a heroine who was completely devoid of innocence and had nothing to learn from any man in bed.
Her various sharp edges took shape around that, and once it occurred to me to make her an unscrupulous gambler, then it also made sense to make her analytical, and preoccupied with probability.
Lydia is right for Will for many reasons. Just to name a few:
Because she's messed up and he's a compulsive fixer;
Because he's messed up too, and she can understand him in a way no well-adjusted woman could;
Because he needs to relax his iron grip on conscience and duty, and she's just the woman to help him transgress;
Because he needs money, and she knows how to win at cards;
Because she knows her way around a man's body, and knows what she wants in bed, and he's the kind of man who can appreciate that.
What was your favorite part of this book to write?  What was the hardest part to write?
Sex scenes between these two were a blast and a half to write. The first one, in particular, is a battle of clashing agendas, which I tend to find more interesting than a love scene in which the hero and heroine are on the same page about how things should go.
The hardest part: endings continue to be grueling hard work for me. The last 20-25% of A GENTLEMAN UNDONE had three wholesale rewrites, if I remember correctly. That's what comes of being a pantser­­—I may think I've plotted out the ending when I start, but along the way I keep discovering things I didn't expect, and once the story's veered off in a different direction, it's hard to reel it back in.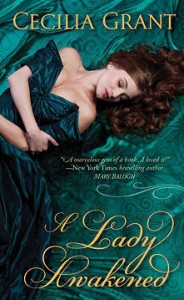 Your January debut, A LADY AWAKENED, earned rave reviews—not only for your beautiful use of language, but also for your cool-headed, determined heroine and your warm-hearted, rootless hero. How did you come up with the love story for these unconventional opposites?
I thought "utter lack of attraction" would make a novel and interesting obstacle for a romance, so I wanted to start with a heroine who was completely unimpressed by the hero, and a hero who, apart from a sort of indiscriminate readiness to jump into bed with any willing woman of appropriate age, didn't particularly like the heroine. Characterization was a lot of fun, because basically it was a process of giving the hero traits that would most irritate the heroine, and vice-versa.
I like romances where the hero and heroine have a long, long way to go from where they begin before winding up as a couple, and with A LADY AWAKENED I got to write the journey from distaste and indifference all the way to deep, abiding love.
You've been referring to your third book—out in spring 2013—as "A [somebody somethinged]." Ha! What can you tell us about it? Does it connect to your first two novels?
I've actually known this book's title for a while now, but I've hung on to "A [somebody somethinged]" because I'd just gotten so fond of it.
A Woman Entangled features Martha's and Will's barrister brother Nick. He's earnest, ambitious, and serious about his work, and he's been struggling for three years to overcome an ill-advised crush on his mentor's daughter, a dazzling beauty determined to trade on her looks and marry up. A professional opportunity for him turns out to dovetail with her social ambitions, and as each helps the other along, their feelings for one another begin to change in inconvenient ways.
Was one particular story or character your favorite to write, and why? Don't worry, we won't tell the others.
I know this sounds like a cop-out, but:  all of them.  I don't mean "I like them all equally," I mean I can make a case for each character as my favorite, and while I'm making that case, that character truly is the one I like best.
But I'll admit that I relate to Will, the hero of A Gentleman Undone, maybe a little more directly than I relate to any of my other creations.  I tend to love the others mostly for their flaws:  Martha for her judgmental stubbornness, Theo for his fecklessness, Lydia for her anger and impatience, Nick for his too-conventional morality, his heroine Kate for her vanity.
Will, I just plain felt for, maybe because he's carrying around the burden of something he wishes he could have done differently, and I always seem to find that affecting.
Do tell: what's an intriguing tidbit of information you've turned up during your research?
"Intriguing" is definitely the word for this tidbit, which saved the book when I thought I was going to have to scrap it:
I had several parallel research tracks for A Gentleman Undone, one of them being the mechanics of card-counting in blackjack (or in its Regency cousin, vingt-et-un).  My primary source was Edward Thorp's 1962 book Beat the Dealer, which pretty much introduced card-counting as we know it today.  (I based Lydia's card-counting scheme on Thorp's early "ten-count" method, rather than the more elegant "high-low" method in widespread use today, because it seemed like the sort of thing an arcane brain might come up with.)
If you've read Beat the Dealer (and who hasn't, right?), you know what I didn't know when I started, which is that standard blackjack strategy, and the card-counting that takes advantage of it, didn't really exist before the computer age.  Thorp used a ginormous IBM 704 to figure out the odds of every possible outcome in every possible situation, and constructed his scheme from there.
And the further I read into the book, the more I became convinced that it just wouldn't have been possible for a human brain to come up with card-counting, and that this fairly major portion of my premise was simply not viable at its core.
But! After lots of practice and perfecting, Thorp went to Vegas and Reno to try out his scheme.  And after he'd had success, he heard from locals that he wasn't the first guy to do this. Another guy, some years before, had won a bunch of money at the tables by using a scheme that, while not nearly as refined and exact as Thorp's (because he didn't have the use of a computer), still took advantage of the changing odds as the deck was dealt. Apparently this guy had literally spent thousands of hours dealing his way through thousands of decks to get a rough version of the same data Thorp's computer program returned.
There's only a brief mention of this in Beat the Dealer, because it's a minor curiosity tangential to Thorp's story. But it rescued A Gentleman Undone from the brink.  Further research confirmed that a couple other people had published "How to win at blackjack" books before Thorp's, and that their strategies, while cruder than his, were basically groping in the same direction.
So, even though I've never seen accounts of any actual Regency-era card counters, it passed the plausibility threshold for me.  My heroine got her card-counting mojo back, and the rest of the story followed from there.
What's coming up for you in the future?
I'm working on a prequel novella about Andrew, the oldest of the Blackshear siblings. He's all about propriety and good form (imagine a masculine version of Martha, only worse), and through a screwball sequence of events, he has to pose as the husband of a girl who appalls him with her Freethinking philosophy and incessant questioning of rules. Three guesses how it all ends up.
Cecilia, thanks again!
And now Cecilia has a question for you:
Now that I've confessed I struggle with endings, I have endings on the brain. What are some of your favorite endings in romance, other fiction, or film? A.S. Byatt's Possession springs to mind; the coda in which we learn what no one in either era-setting of the book will ever know: that Randolph Ash did, after all, know about his daughter and even met her.
Tell me your memorable endings and you may win a copy of A Gentleman Undone! (And thanks so much to Theresa for having me here today and for asking questions that were such fun to answer!)
For a chance to win A GENTLEMAN UNDONE, just comment on this post–let us know your favorite endings! A winner will be randomly chosen from among all commenters. Giveaway open internationally. The giveaway will close on June 4, and the winner will be contacted at the email address submitted with the comment.
*     *     *
About Cecilia: Cecilia Grant always knew she'd do something with that English degree. After waiting tables, composing software Help files, and answering the carpool-lane-violators hotline, she's delighted to be writing stories. Cecilia makes her home in the Pacific Northwest with her fellow-writer husband, two bookish children, and un-literary cat and dog. Find her online at http://ceciliagrant.com/, or on Facebook or Twitter.
Order A GENTLEMAN UNDONE:  Indiebound • Amazon • Barnes & Noble