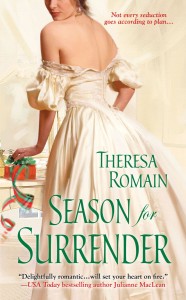 My blog tour for SEASON FOR SURRENDER continues this week, as I hop to six different spots around the Internet. Today I'm in two places at once (you don't know how long I've been wishing for that ability!). Here's the lineup for the week:
September 24: Manga Maniac Cafe–interview
September 24: In the Hammock Book Reviews–SEASON FOR SURRENDER excerpt, part 1
September 25: Book Lovin' Mamas–SFS excerpt, part 2
September 26: Book Girl of Mur-y-Castell–SFS excerpt, part 3
September 27: Romancing Rakes for the Love of Romance–SFS excerpt, part 4
September 28: Book Whore–SFS excerpt, part 5
My first stop today is over at Manga Maniac Café, where the delightful Julie interviewed me, and I rewarded her kindness with a shameless pun. Sorry, Julie! (Not really. I'm shameless.) A signed copy of my debut, SEASON FOR TEMPTATION, is up for grabs over there.
As for all the excerpt posts this week, here's where the favoritism comes in. I worked with Lit Connect, a truly lovely author service, to plan that part of the blog tour. When the marketing director suggested we unroll a chapter over the course of the week, I knew exactly the one I wanted to choose, because it's my favorite of the book.
The excerpts you'll be able to read this week are taken from Chapter 12, "Containing a Most Seductive Fiction." This was one of the hardest chapters to write; I must have gone through a half-dozen different takes on the scene before I was even semi-happy with it.
Why so difficult? Because it's the most pivotal scene in the book. Up to this point in the story, the hero—that scamp, Lord Xavier—has realized that there are problems with his reputation and his life. This is the chapter in which he finally begins to transform and create a deep bond with the heroine, Louisa.
I probably like this chapter so much because of that struggle–and since I like it, I wanted to share it with you this week. Each of the 5 excerpts this week is consecutive, and all together they make up about 2/3 of the chapter (the final 2/3, for the curious).
At each excerpt stop this week, you can enter for a chance to win a signed copy of SEASON FOR SURRENDER. So go forth, and happy reading!