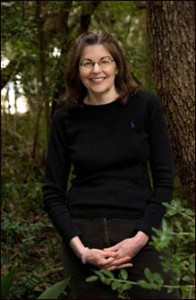 Today I'm delighted to welcome Vanessa Kelly to the blog for a chat. Vanessa's a fantastic author of historical romance—in fact, Booklist has called her one of the genre's "new stars."
Vanessa and I both write for Kensington Zebra, and this year, we both had Christmas releases out on the same day! Her new book is HIS MISTLETOE BRIDE; mine is SEASON FOR SURRENDER.
To celebrate our festive new novels, we met for a Skype chat recently—and wound up talking about the challenges of Regency Christmas research, what inspired our characters, and how the stories changed as we wrote them. Read on for part 1 and for a giveaway of Vanessa's new book! Then be sure to hop over to Vanessa's blog for part 2 of the chat and another giveaway.
Thanks for joining me, Vanessa!
Vanessa: How did your series evolve into a Christmas based series?
Theresa: It started by chance, as so many things do in writing! When I was working on my debut, SEASON FOR TEMPTATION, I wanted to tell the story of a relationship that grew and changed over the course of about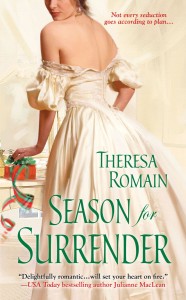 6 months—roughly from the end of one London season to the beginning of the next. Christmas fell smack in the middle of that, so when my editor bought the book, she thought the Christmas scenes could be highlighted and it could become a Christmas release. And so it did (in 2011).
When I started writing the next story in the series—my new release, SEASON FOR SURRENDER—I didn't shape it as a Christmas story; it was simply set during the fall. My editor asked if the autumn house party could become a Christmas party, and you know what? It easily could. It was a story about forgiveness and learning one's worth, and those topics fit well with the holiday season.
How about you? HIS MISTLETOE BRIDE is your first holiday story, and you've mentioned that that happened by chance, too. How was it different from writing your other three historical novels in terms of plot or research?
Vanessa: HIS MISTLETOE BRIDE is the last book in my Stanton Family series and I initially intended it to have a dash of adventure and danger, like my other books. I like an element of risk in my stories—real plot driven stuff. For this book, I'd already latched onto a crazy idea that wouldn't let go.  I knew from the start that I wanted a Quaker heroine, and from there I took it one step further.  One of my favorite old movies is High Noon, an iconic Western starring Gary Cooper and Grace Kelly.  Wouldn't it be cool, I thought, to have a Regency High Noon?  That meant I had to have some bad guys, and those bad guys turned into a band of dangerous smugglers using the hero's estate for their smuggling runs.  This gang would present all sorts of challenges for the hero and heroine since they would have very different ideas on how to solve the problem.  I initially envisioned an ending—a kidnapping—that would have forced my heroine to make a very stark choice.
Theresa: A Regency High Noon—I love it! That's apt, because your hero is a soldier (the Regency lawman) and he winds up having to decide between keeping strictly to the rules or bending them for the greater good—which completely goes against his training. And then you gave him a gentle heroine with nerves of steel to match his own.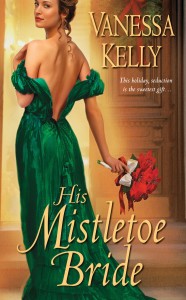 Vanessa: That's right.  But then my editor suggested I write a Christmas book instead. *sob* There went my dastardly smugglers and my high stakes plot! But then a friend suggested I turn the idea on its head—keep the smuggling plot as a point of conflict between the hero and heroine, but for a different set of stakes. So my smugglers morphed into poverty-stricken villagers who were forced to turn to a life of crime to support their families. That would naturally gain my heroine's sympathies and force my hero to rethink his tough-guy way of doing things.  It became a challenge for him—to make a choice between obeying the law or obeying his conscience and compassionate instincts.  That fit in very nicely with the Christmas theme of peace and reconciliation.
As for research, I spent quite a bit of time looking for material on Christmas during the Regency era. I suspect you already know that sources on holiday traditions during that time are rather thin. But once I drilled down I found some really interesting stuff to include in the book. In the end, the Christmas theme turned out to be a whole lot of fun and allowed me to create wonderful scenes—decorating parties, family events, games, and a lot of smooching under the mistletoe!
What about you?  Did you have challenges with your research?
Theresa: Yes, there are far more sources and traditions dealing with Victorian Christmases (thanks, Charles Dickens!) than there are for Regency holidays. Some traditions, like Christmas trees, were just beginning to catch on in society. But others, like kissing under mistletoe, have been around for centuries.
The thing I enjoyed the most was learning how important those post-Christmas days were during the Regency. Nowadays, December 25 is the big shebang, and the days that follow are an afterthought. But in the early 1800s, Christmas was just the beginning of 12 days of festivity, and Twelfth Night was at least as big a celebration as Christmas itself.
What was your favorite research tidbit as you were working on this—either the smuggler plot or the Christmas elements? Or, for that matter, writing your first American heroine, and a Quaker to boot?
Vanessa: Yes, I really enjoyed creating a Quaker heroine and giving her a tough-guy soldier for a hero—that was a fun set up for conflict.  And studying the history and traditions of Quakers during the Regency period was fascinating.  I think we have some fairly rigid and one-dimensional ideas about them.  I wanted to create a well-rounded portrait of a heroine who is committed to her beliefs but is also funny, feisty, and very much in love with her new husband.
As for some favorite research tidbits, I love the fact that a Regency Christmas was truly a celebration of the entire Season, with much of the good stuff happening between Christmas Day and Twelfth Night. Twelfth Night is a pretty cool celebration with very interesting traditions, including the custom of choosing a King and Queen to oversee the party, dancing, and games. And let's not forget the Twelfth Night cake, a huge, elaborately decorated confection brought out with much fanfare. The cake had a small bean baked into it and the person who got the bean was appointed King (or Lord of Misrule, in some traditions). There are some bizarre period accounts of accidents involving party-goers who inhaled the bean, usually because they had too much to drink! I incorporated that little Regency oddity into the Twelfth Night celebrations in HIS MISTLETOE BRIDE.
Theresa: Overindulging during the Christmas season? Surely not! 😉
Vanessa: Ha! Hard to believe, eh? That sort of action happens in your book, too. Your hero—a lovely example of the reformed rake—has to deal with some guests who are perhaps a tad too interested in bad behavior. Did you find that Xavier had some challenges to overcome in that respect? He's acquired a reputation as a rake and cynic, but I thought he really yearned for something else—especially during the holiday season.
Theresa: Xavier thinks of himself as "a fake of a rake." He will do whatever it takes to get and keep society's attention, because his whole identity is wrapped up in that. But over time, he realizes that putting on a front all the time means he can never relax, and he can never let anyone know what he's truly interested in. Until, that is, he meets heroine Louisa. She begins the story with a bone to pick with him—he had a hand in a past family scandal—and that means she doesn't take his charm or promises or flirtation for granted. Since she doesn't, he soon allows himself to be honest and genuine with her.
Your story is a "marriage of convenience" tale, while I might call mine "enemies to friends to lovers." Did the matchup of characters come first for you in HMB, or did the plot shape their personalities?
What's the answer? You can find out in part 2 of our chat on Vanessa's blog. I'm giving away a signed copy of SEASON FOR SURRENDER over there—open internationally!
Please leave a comment here for a chance to win a copy of Vanessa's new release, HIS MISTLETOE BRIDE. As if the rave reviews weren't enough to make you want to read this, I can personally vouch for its sweet, sexy festive awesomeness. This giveaway is open internationally.
To enter, just let us know: what most tempts you to overindulge? Is it a favorite food or drink? An entire season of True Blood on DVD? Anything goes! This giveaway will be open until 5 pm ET on October 11. One random commenter will win HIS MISTLETOE BRIDE.
*     *     *
Order HIS MISTLETOE BRIDE in print: Amazon  ·  B & N  ·  Book Depository  ·  B-A-M  ·  Chapters  ·  IndieBound
Order HIS MISTLETOE BRIDE in digital format: Kindle  ·  NOOK
Vanessa Kelly writes Regency-set historical romance for Kensington Zebra.  Her latest book, My Favorite Countess, was nominated for an RT Reviewers' Choice Award, and she was named by Booklist as one of the "new stars of historical romance."  When not penning stories about aristocratic rakes and feisty misses, she's writing contemporary romances with her husband, under the pen name of VK Sykes.  You can find her on the web at www.vanessakellyauthor.com or at www.vksykes.com.
Facebook: https://www.facebook.com/vanessakellyauthor • https://www.facebook.com/VKSykesBooks
Twitter: http://twitter.com/VanessaKellyAut • http://twitter.com/VKSykes