…I visited the USA Today romance blog, Happy Ever After. That's right, today it's my turn to share a favorite holiday story as part of the "Twelve Days of Christmas" series.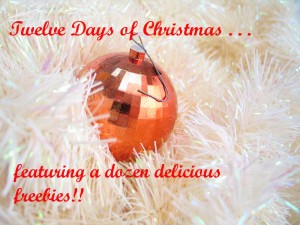 I'm talking about the movie Christmas in Connecticut–which, if you've never seen it, is a lovely, funny holiday classic from 1945. The hero is a soldier, just home from World War 2 and craving an old-fashioned Christmas. The heroine is a supposed domestic goddess whose job depends on providing just that sort of Christmas celebration.
Too bad she's a fraud.
To save her job, heroine Elizabeth (Barbara Stanwyck) goes to great–and hilarious–lengths to beg and borrow a perfect Christmas for hero Jones (Dennis Morgan). And though her deception is eventually found out, all's well that ends well. Elizabeth winds up with a better job, and she and Jones fall in love.
As I mention in my post on the USA Today blog:
Why do I like this movie so much? Well, first of all, it's nice to see a heroine having as much trouble in the kitchen as I do. But more than that, this is a movie about appearance versus reality. Elizabeth has built her career on a fake image of domestic perfection. While her job is at stake, she's willing to go farther and farther with the charade. But when she meets Jones, she realizes she has sacrificed her personal life to this falsehood too. And she's not ok with that; she wants to be known and loved for herself. Her real, not-perfect, could-somehow-burn-water self.

There are two messages in this movie that are lovely not only for the Christmas season, but for any time of year. First, happiness is far more likely to be found when a person is genuine rather than struggling for perfection. And second: imperfection, whatever its form, is worthy of love.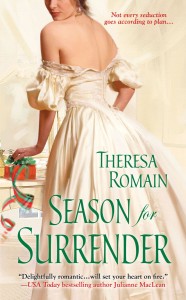 Some of these themes pop up in my new historical romance, SEASON FOR SURRENDER, too. I hope you'll stop by and check out the post on Happy Ever After–and be sure to leave a comment over there so you can be entered for a signed copy of SEASON FOR SURRENDER! (You can still enter the other "Twelve Days" giveaways too. Author Ruthie Knox is collecting all the links here.)
Since it's the ninth day of the blog series, I'm also giving away a box of nine delicious chocolate truffles. This box. To enter, just leave a comment on this post telling me about one of your favorite holiday treats! International entrants are welcome; I'll choose a winner at random from among all commenters.
This truffle giveaway, and the book giveaway on the Happy Ever After blog, will both close at midnight ET/11 pm CT on November 25. Winners will be announced on Monday, November 26. Good luck!