Folks, hope you all had a wonderful Thanksgiving last week. (If you're from the US, that is. If you're Canadian, sub in "last month," and if you're from another country, just roll around in thoughts of your favorite holiday.) We had some out-of-town visitors, and we ate well, played lots of games, and ate well some more. Lots to be thankful for.
I was in charge of making the pumpkin pie on Thanksgiving, which is risky, because:
I make a terrible pie crust, and
See #1.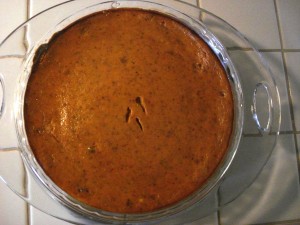 Here's what we wound up with: a glorious pumpkin pie, custardy-creamy and full of sweet spices–and no crust whatsoever. If you're crust-impaired like me, give this a shot for your next pumpkin pie, because it holds its shape really well on its own.
I don't know if that cheat clever trick works with any other sort of pie. So for our next round of visitors (this week!), I decided to turn the job over to the pros. Viz:
Me: I'm going to order a few bakery pies for the upcoming week. For a fruit pie, do you want apricot?
Mr. R: That's ok with me.
Me: Or peach?
Mom R: That's fine too.
Mr. R: Either one. Any kind of fruit is good.
Mom R: Right.
Me: Ok, how about strawberry or blueberry, then?
Mr. R and Mom R, in unison: No.
Ahem. Fine. Apricot it is.
Now that the uber-important question of pie is settled: we've got a couple fabulous events to look forward to this week!
Tonight, Smart Bitches, Trashy Books is hosting the Sizzling Book Club chat about SEASON FOR SURRENDER. It'll be a text chat in a special window on the SBTB home page; just stop by at 9 ET and you should be able to join in. I'll join the chat at 10 ET, so if you've got any questions for me, fire 'em my way. (And if you haven't gotten a copy of the book yet, the Kindle edition is on sale for $1.99. Holy moley.)
Coming up this Friday, November 30: the Romancing the Holidays gala! Victoria Alexander, Vanessa Kelly, Grace Burrowes, and I will be posting all day at The Romance Dish. There will be reader prizes galore–you can check out the list on The Romance Dish–and some donated-book bundles for libraries of women's shelters. But we need your help to give all this excellent stuff away. Stop by holiday-gala.com by Friday to sign up for your own chance to win, and you can nominate your favorite library or shelter too.
Whew. Lots of fun stuff going on. I wish you the pie of your dreams this week, and I hope to see you at the chat tonight and the gala on Friday!