Here's the short version: Heather Snow and I are giving a talk about romance-writerly stuff, then signing books, at Watermark Books in Wichita on April 18th at 7 pm CT.
Perhaps you would like more information? Sure thing.
1. This is Heather Snow. She writes the amazing Veiled Seduction historical romances: SWEET ENEMY, SWEET DECEPTION, and SWEET MADNESS.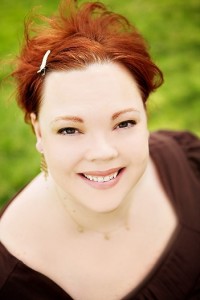 Seriously, her books are…wow. They're beautifully written, they've got characters so complex that they seem real, and somehow they push the boundaries of Regency romance but remain historically accurate. You should come buy Heather's books and have her sign them. Heck, I am going to have her SIGN MY ARM. (Ok, maybe not. Heather, I'm really totally normal, I swear.)
2. This is me.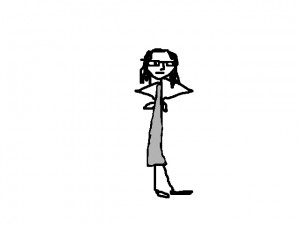 I might wear something other than a gray triangle to the signing, though. And I might not wear my glasses. But you'll recognize me from the hair.
3. Our talk? Might include reading a few excerpts. It'll definitely include profound insights, or barring that, a rap battle. Also time for questions.
4. Watermark Books is a fabulous independent bookstore in Wichita, Kansas. They host author events, book clubs, and offer a subscription for collectors who are interested in signed first editions. They've got a marvelous local history section. But then again, they've also got a great children's section…and humor section…and their fiction section is awesome…ok, come early and just browse everything. There's also an attached cafe that serves shockingly delicious baked goods. Come extra-early and get a cupcake.
5. Wichita is the city with the basketball team that just made the Final Four and the mascot that looks like a demented shock of wheat. Go Shockers! (Probably the only time you'll ever see a topical sports reference on this blog.)
6. April 18th is a Thursday. 7 pm is equivalent to 1900 hours if you prefer military time.
Hope to see you there! You can RSVP on the Facebook event page here. And if you can't come to the signing–because you're, you know, in a different sector of the world–both Heather and I offer signed bookplates, so you can still fancy up your books. If you want a bookplate, just email us through the contact pages of our websites.