I'm trying to play it cool. I really am. But LOOK HOW PRETTY THIS IS YOU GUYS: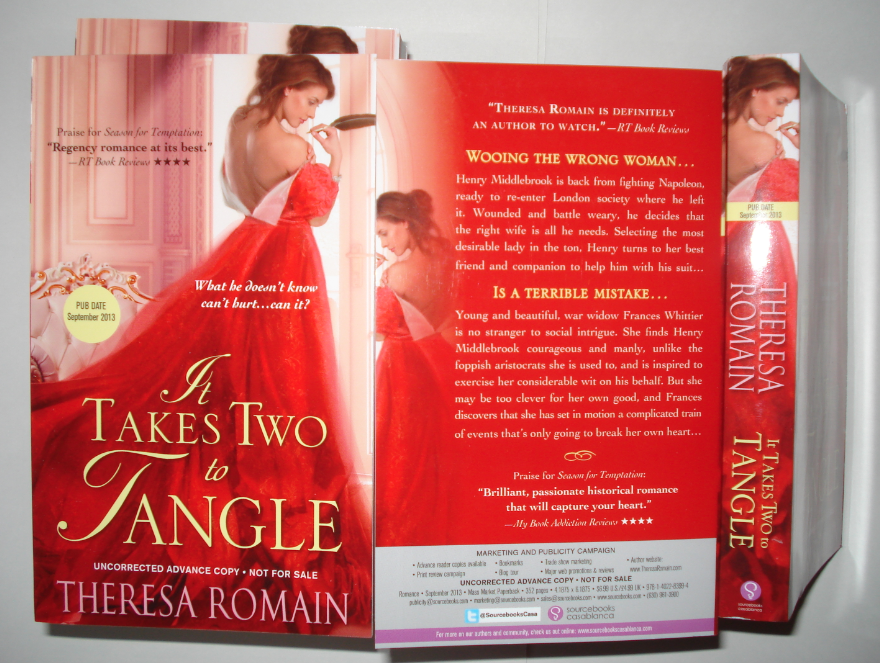 Ok, I'm not playing it cool. I've never been especially cool, and the first sighting of a new book is enough to drive me into ungrammatical fits of delight. I just got the advance copies of my September romance, It Takes Two to Tangle, and WOW. Isn't this book design lovely? Even the spine is a work of art. I can't thank the Sourcebooks art department enough.
It Takes Two to Tangle is the first book in my new "Matchmaker" trilogy–so called because the characters try to matchmake for one another, and lo, nothing goes as they expect. The hero of this book, Henry, is a wounded ex-soldier/artist. That made him a real challenge to write, which is probably why I wound up liking him so much! (The fact that he's a lefty by default only adds to his appeal.) And the heroine, Frances? Ohhh, she's a sly one. Want a taste of the story? You can read Chapter 1 on my site here.
The Giveaway News:
As you might guess from the excitable post title, one of you can win an advance copy of It Takes Two to Tangle right here on this post. To enter, just leave a comment letting me know something you like to see in romance cover art. Or if nothing specific comes to mind, just tell us your favorite kind of cookie. 🙂
This giveaway is open internationally. Entries in the form of comments on this post will be accepted until noon ET on Thursday, May 23. (After that, you can still leave a comment, but it won't be included in the drawing.) One winner will be chosen at random from among all comments submitted by the close of the giveaway. The winner will be contacted by email, so please submit an email address as part of your comment. It won't be publicly displayed or shared.
And psst: More giveaways will be coming soon, so keep an eye on this site, my Facebook page, or Twitter (I'm @TheresaRomain) for all the updates.
Thank you so much for stopping by, dear readers! You guys are the best. I hope you enjoy meeting Henry and Frances.