As I mentioned in my last post (and on Facebook, and Twitter–because I get very excited about this sort of thing), I've got some advance copies of SEASON FOR SCANDAL. See?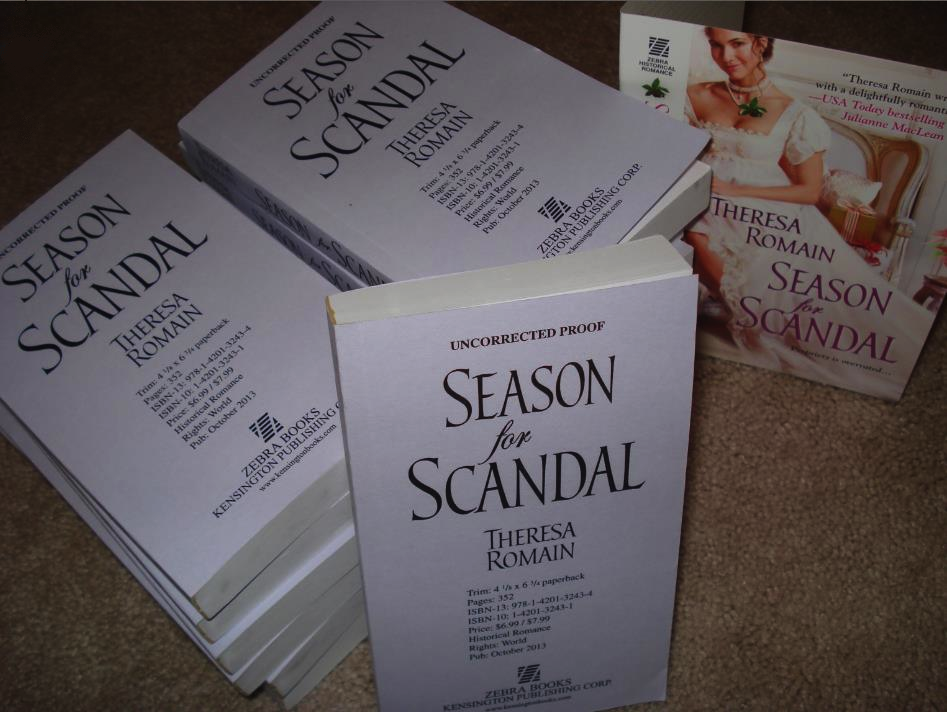 SEASON FOR SCANDAL, out October 2013, is the third book in my Regency-set holiday romance quartet. Each story stands alone, so if you haven't read the first two Season novels, you can dive into the series with this one.
This is at heart a marriage of convenience story, though since I am mean and cruel to my characters, the heroine is desperately in love with the hero before they're married. In fact, she has been for years. But when her perfect life seems to be snapping into place, that's when things fall apart. (See above re: mean and cruel to characters.) Here's the back cover copy:
UNLADYLIKE RISK

Jane Tindall has never had money of her own or exceptional beauty. Her gifts are more subtle: a mind like an abacus, a talent for play-acting—and a daring taste for gambling. But all the daring in the world can't help with the cards fixed against her. And when Edmund Ware, Baron Kirkpatrick, unwittingly spoils her chance to win a fortune, her reputation is ruined too. Or so she thinks, until he suggests a surprising mode of escape: a hasty marriage. To him. On the surface, their wedding would seem to satisfy all the demands of proper society, but as the Yuletide approaches, secrets and scandals turn this proper marriage into a very improper affair.
You can read Chapter 1 here.
SEASON FOR SCANDAL will be published on October 1, and it's up for print and digital pre-order (links here). But one of you won't have to wait that long to read Jane and Edmund's story!  I'll give away a signed advance copy of SEASON FOR SCANDAL, plus a signed coverflat, to one random commenter on this post. Since Jane has a few unusual talents: to enter, just leave a comment telling me a talent you're proud of, or one you'd like to have.
This giveaway is open internationally. Entries in the form of comments on this post will be accepted until noon ET on Monday, June 17, 2013. A winner will be chosen at random from among all comments submitted by the close of the giveaway. The winner will be contacted using the email address submitted along with the comment.
**In other news: a Goodreads giveaway for this title will be opening on Saturday, June 15! And you can currently enter a Goodreads giveaway for an ARC of my other upcoming romance, IT TAKES TWO TO TANGLE (out in September). I'll keep you posted with the latest news, so keep an eye on this site, my Facebook page, or Twitter (I'm @TheresaRomain) for all the updates.
Thanks for stopping by, dear readers! You rock. You really do.