I think I've made it clear to regular readers of this blog that mine is a pretty glamorous life. I own two tiaras. TWO.* And I never clean the bathtubs, dahling.**
Never is the glamourousness of my life more clear than the week I turn in a book to my editor. Which, by the way, happened this week: I finished the third Matchmaker book, tentatively titled THE HEIRESS TAKES A LOVER.
Here is a limited sampling of some of the glamorous occurrences surrounding the completion of the book:
1. During pre-deadline revision marathon, ate celebratory bag of Jelly Bellys Mr. R bought for when book is completed.
2. After weeks of intermittent Internet connection, lost access completely the day the book was due. So completely that when I reset the modem, it just made the sad trombone sound.***
3. Realized Little Miss R is way behind on her Summer Reading Club goal. What?? Shameful!! How did this happen?? Realized we have not been writing down any books she's been reading for past two weeks. Smacked forehead. Remained unable to remember titles.
4. Picked up branches in yard that Mr. R had pruned a week earlier. Learned that leaves can rot in less than a week. And that rotten leaves like to rub themselves on human skin. And that spiders like to jump onto human skin rubbed by rotten leaves.****
5. Bought a box of macarons to treat myself, because the book really is done and really did get turned in on time. Look how beautiful: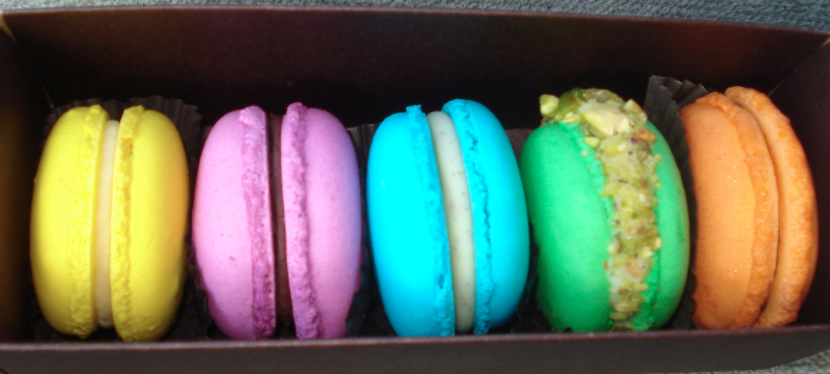 This last item actually IS pretty glamorous–though I ought to confess that Little Miss R is the one who suggested this purchase, because she loves macarons even more than I do. Couple that with her multiple-tiara ownership, and I think it's clear that she's on the path to one day being a romance novelist.
How has your week been?
————————————
*Ok, not so much me as Little Miss R.
** Mr. R cleans the tubs instead, because I do a really bad job. Incompetence or clever strategy? YOU DECIDE. (In exchange, I clean the toilets. So, honestly, it's probably not the "clever strategy" thing.)
***Just kidding. It actually played "Toccata and Fugue in D Minor." The whole thing.
****The word you're looking for is, "AIEEEEEEE."