Here's a significant personal update: I got my hair cut.
"What?" You say. "That's not a significant update. I get my hair cut at least once a year. Maybe even twice."
Well done. Clearly you are much less of a hermit than I am, because I postponed a haircut until my hair looked like this. (I know you guys like it when I draw, because the art is of such excellent quality.)
Little Miss R thought it looked pretty good, but since she still sometimes asks me whether it's ok to eat soap, her opinion is not to be relied upon.
So I got it all cut off for donation, figuring it could do more good in a location other than my head. Now I look like this.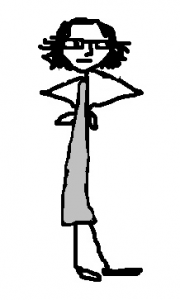 I should have drawn a smile, because I really like the haircut. My family, however…
Mr. R's reaction: "Oh. I didn't notice until you said something. It doesn't look that different."
Little Miss R's reaction: "I don't like it."
Mr. R, prompting heavily: "Mommy looks pretty, doesn't she?"
Little Miss R: "Not her hair."
The love, I feel it.
But enough about me. Let's talk instead about…er, me. Actually, my books. See, two books will be out this fall, which is an event unprecedented for me.
IT TAKES TWO TO TANGLE, my version of the Cyrano story, will be out on September 3. If you're handy with a calendar, you might realize that that's…criminy, only 18 days away. This book contains a sneaky widowed heroine (with secrets!), a sweetheart of a wounded ex-soldier (with secrets!), and lots of letters (that are secret). To celebrate the release, there will be a blog tour with lots of giveaways. I'll keep you all posted with links as I get them.
And and and, there will be a Twitter party on the evening of September 3! This is also an event unprecedented for me. I think it'll be like a live chat, except we all get to wear our PJs. Here's the info as organized by the marvelous Lit Connect.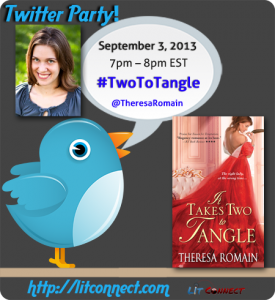 If you pre-register to attend the Twitter party, you'll be in the running for several prizes–signed books, a gift card, etc.–that are only open to people who, you know, pre-register. If you're so inclined, you can pre-register through the Rafflecopter form near the bottom of this page. Or if you just want to turn up for the party itself, that's great too, and we'll be giving away more prizes during the event.
I mentioned two books, though–and four weeks after IT TAKES TWO TO TANGLE, SEASON FOR SCANDAL will be released. This is my first marriage of convenience tale, and it surprised even me with how fun it was to write. RT Book Reviews gave it 4 stars and called it "delightfully funny."  Little Miss R called the cover "pretty." (The cover model has apparently not suffered a haircut.) You can read Chapter 1 here, and if you're a blogger, bookseller, or librarian, you can request an e-ARC here on NetGalley.
You'd think that would be enough news for one post, right? But not quite. Today Little Miss R starts kindergarten–and today is also my birthday. To combat the feeling of holycowmilestonesgalore, I'll be giving away some books today on Twitter, so please stop by @TheresaRomain to see what's up for grabs.
Thanks for sticking around through this post, you guys. May all your haircuts be fabulous!