Since another 5 inches of snow fell yesterday, I've been forced to stay inside and look at the entire Internet. And dear readers, I've turned up some fun news about my Matchmaker trilogy for you.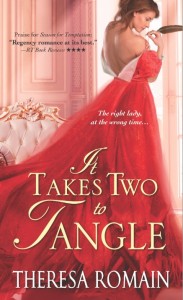 First: the digital edition of IT TAKES TWO TO TANGLE is on sale all month. It's just $2.99! And that deal is good at Amazon, Barnes & Noble, iTunes, and Kobo. Here are some essential facts about  IT TAKES TWO TO TANGLE, my Regency take on the Cyrano story:
1. The hero is wounded in war and he does not magically get better. This doesn't mean he can't find happiness. (Spoiler: and he does.)
2. The widowed heroine truly loved her first husband. This doesn't mean she can't fall in love again. (Spoiler: and she does.)
3. There is kissing. More kissing. And dirty stuff. And more dirty stuff.
4. Eloisa James liked it. I KNOW RIGHT *falls over*
5. You can read the entire first chapter here.
IT TAKES TWO TO TANGLE is in great sale company with other Sourcebooks romances. The fabulous Jade Lee has posted a full list of the discounted books here.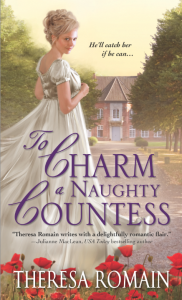 And the second bit of news? Matchmaker book 2, TO CHARM A NAUGHTY COUNTESS (out May 6, 2014), is starting to show up for early review. Anxious virgin duke hero! Rakish heroine! TCANC is a Pygmalion story–and HE'S the one who gets Pygmalioned, if that is a word.
Chapter 1 is up here. If you're a bookseller, librarian, reviewer, or book blogger, you can request an e-ARC from NetGalley here. I'm also giving away two print ARCs on Goodreads.
If you don't want to hedge your bets, pre-ordering works too. Right now Walmart is listing the print edition for just $4.42. What?! Yes. Really. Here, have some links.

Print: amazon • barnes & noble • book depository • books-a-million • chapters indigo • indiebound • powell's •posman • sourcebooks • walmart • watermark 

Ebook: kindle • nook • ibook (This is all the links I've found so far. More coming before publication day, probably.)
"That's fine, Theresa," you are all saying. "But you promised us something to do with 'bh.' It says so in the blog post title."
Very true. Here's the deal: advance copies of a book are printed before the author and production editor get the chance to make final corrections. For the most part, bloopers are very small, and many early readers might not even notice them. And that's true in TCANC as well, except for one instance.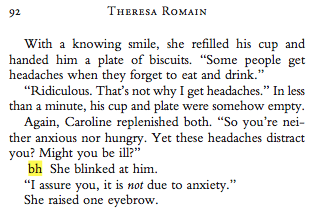 (It's the thing I highlighted in yellow. You knew that.) In this case, "bh" is not short for "Benedict Hcumberbatch" or anything like that. The hero, Michael, should have a line of dialogue right there:
"I'm not ill either. I simply prefer to retain control of my surroundings, because if I do not, I get a headache."
So, now you know. It should be fixed in the final version of the book, but until then you can think of it as our secret code for "suuuuurrrrre, Michael."