Ok, ok. I just posted placeholder cover art for my upcoming books earlier today, and I thought it might be a while before I had some high-res images to show you. But my editor is a peach (actually, I have two editors, and they're both peaches), and she got hold of the cover art for Fortune Favors the Wicked right away. Behold, the cover of the first historical romance in my Royal Reward duo: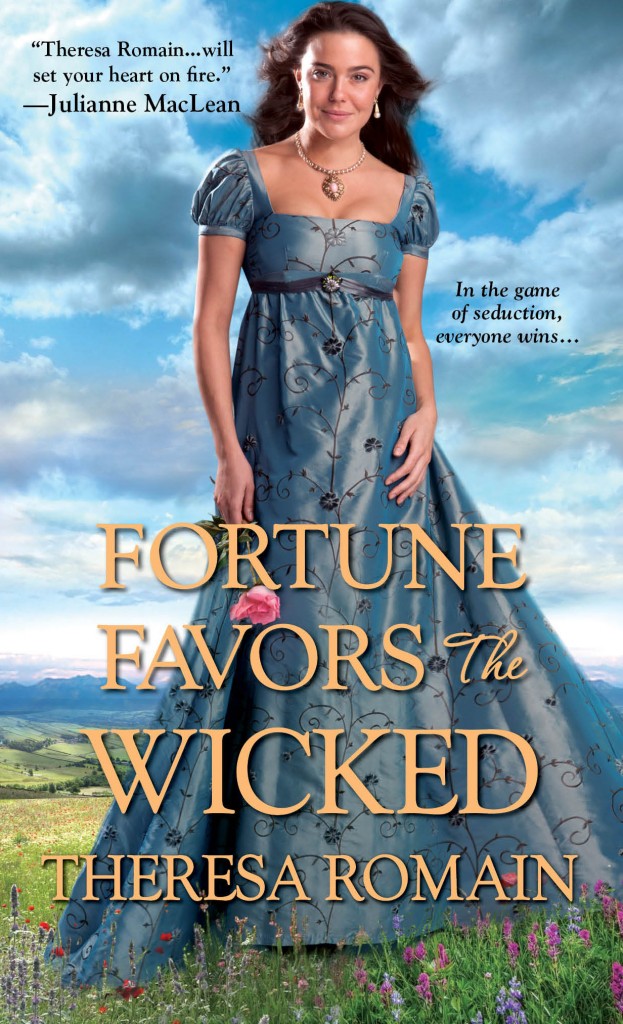 Isn't that stunning? It captures the heroine's adventurous spirit so well, I think. I loved the early peek at this art so much that I changed a scene in the book to match it. When 
Fortune Favors the Wicked
comes out on March 29 next year, let me know if you spot it.
I'll post an excerpt as soon as the book's gone through copyediting. In the meantime, here's the cover blurb:
INDECENTLY LUCKY

As a lieutenant in the Royal Navy, Benedict Frost had the respect of every man on board—and the adoration of the women in every port. When injury ends his naval career, the silver-tongued libertine can hardly stomach the boredom. Not after everything—and everyone—he's experienced. Good thing a new adventure has just fallen into his lap…

When courtesan Charlotte Perry learns the Royal Mint is offering a reward for finding a cache of stolen gold coins, she seizes the chance to build a new life for herself. As the treasure hunt begins, she realizes her tenacity is matched only by Benedict's—and that sometimes adversaries can make the best allies. But when the search for treasure becomes a discovery of pleasure, they'll be forced to decide if they can sacrifice the lives they've always dreamed of for a love they've never known…
Charlotte and Benedict are a sexy, sassy pair, thoroughly enjoying each other's company–though never intending to fall in love. I hope you love meeting them! If this sounds like your kind of story, the first pre-order links are already up:
Print: amazon 
More links will be coming soon! And you can always find the latest info on the Fortune Favors the Wicked page of my website.