I just ran a week of book giveaways on my Facebook page, and it was so much fun that I'm not quite ready to stop. Since not all my readers are on Facebook, this giveaway's taking place right here on the blog. To one random commenter, I'd like to send a signed advance copy of Lady Rogue.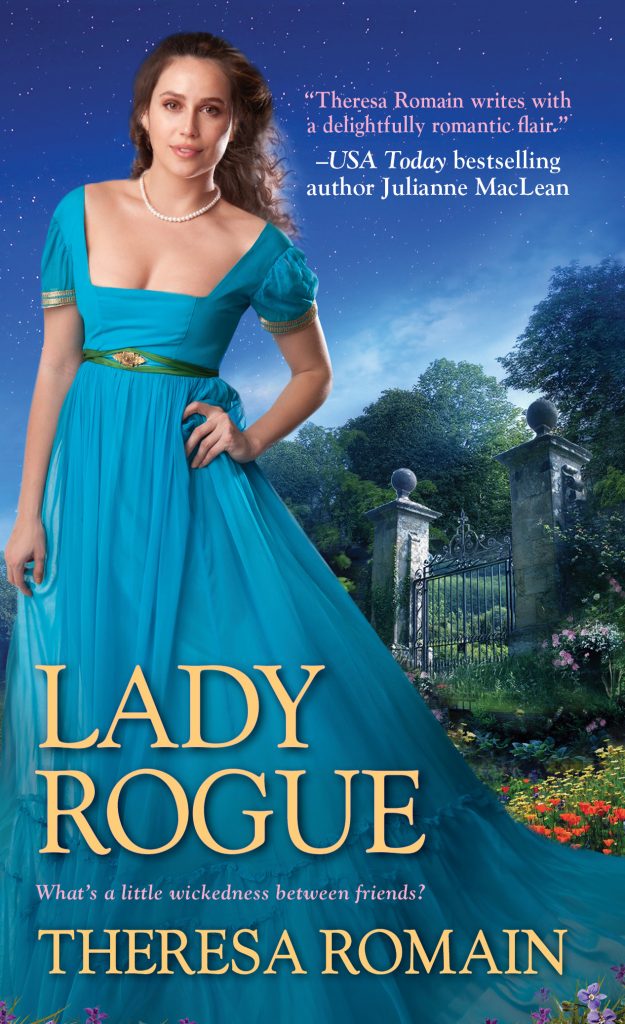 "But Theresa," you say. "Why should I want to read Lady Rogue at all, not to mention two months early?"
Always a fair question. Might I bribe you with a few bullet points:
*Lady Rogue is inspired by the romantic heist movie How to Steal a Million;
*The hero is a grumpy Bow Street Runner (we first met him in Passion Favors the Bold, but this story can absolutely stand on its own);
*The heroine has a troublesome cache of stolen art, plus a troublesome fondness for the Bow Street Runner she asks for help;
*There are dogs, both playful and bad-tempered;
*There are many scenes of cake, biscuit, and bread-eating, plus a family grocery store with ropes of onions (for sale) and pet linnets (not for sale).
So, basically just a lot of food and art and animals, plus one of the tenderest HEAs I've ever written. I hope you'll enjoy reading Callum and Isabel's love story.
If you'd like to pre-order it, you can do that at all kinds of places:
Print: amazon • barnes & noble • book depository • indiebound • indigo • the ripped bodice • watermark
Ebook: kindle • nook • kobo • ibooks • books-a-million • google
You also can find Lady Rogue on Goodreads here.
And if you'd like to enter the ARC giveaway, just leave a comment here on this blog post. You can comment about whatever you like, though in the spirit of Lady Rogue's food scenes, I'd especially love to know your go-to easy dinner recipe. Nah, that's not related to books at all, but surely we can all always use a few more foolproof recipes (I know I can).
This giveaway is open internationally, and I'll choose a winner at random from among all comments left by Tuesday, February 20, at noon ET. Void where prohibited.
By the way, if you'd like to be sure you're always getting news of my new releases, please follow me on BookBub. Or subscribe to my newsletter for new-release announcements, excerpts, and exclusive giveaways.
Thanks, and good luck!