A Gentleman's Game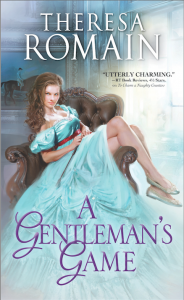 is out one week from today, and the spotlight tour has already begun! Since it's a road romance, I've come up with some Road Trip Tips that really would have helped my characters. You can read a different tip, plus an excerpt, at each site that hosts a spotlight. Give them a hello, won't you? A Rafflecopter giveaway of a book bundle will run throughout the spotlight tour.
Here's the lineup. I'll add links as posts go live.
SPOTLIGHT TOUR
1-26   Those Crazy Book Chicks
Romance Junkies
Buried Under Romance
What Is That Book About
1-27  Queen of All She Reads
Jen's Reading Obsession
Reading Between the Wines Book Club
1-28  SOS Aloha
Kimmie Sue's Book Review
2-1  Long and Short Reviews
2-2 (release day!)  The Lusty Literate
2-5 Mary Gramlich
2-7  Words of Wisdom from The Scarf Princess
2-8  Sapphyria's Book Reviews
2-9  Lori's Reading Corner
Book Lovin' Mamas
2-11  Romantic Historical Reviews
Next week–release week–I'll also be visiting some blogs with guest posts and exclusive excerpts. Most of these stops will include a book giveaway. Again, links to be added as posts go up. Hope to see you there!
BLOG TOUR
2-1  Night Owl Reviews
2-2 (release day!)  Life with Two Boys
USA Today HEA blog
Ever After Romance
2-3  The Jaunty Quills
2-4  Book Hounds
Sourcebooks Casablanca blog
2-5  Smart Bitches, Trashy Books "Covers & Cocktails" feature
2-6  Room with Books
2-7 Martini Times
2-8  All About Romance blog
Harlequin Junkie
Sassy Book Lovers
2-17 Fresh Fiction