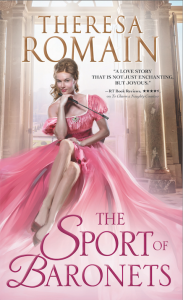 My enemies-to-lovers novella, The Sport of Baronets, will be out in less than a month–and I've got some news for you all! First, the second half of chapter 1 is up on my site.
Second, my publisher, Sourcebooks Casablanca, will serialize The Sport of Baronets beginning October 19. That's two weeks before publication day, so if you want to read it early, you'll get an excerpt a day. Sign up here, and you'll start getting those excerpt emails from Sourcebooks on 10-19.
And finally, The Sport of Baronets will be available on NetGalley beginning 10-26. Booksellers, librarians, and reviewers, I'd love for you to check it out. I'll let you know once the link goes live!
In the meantime, if you want a sure thing, Hannah and Bart's novella is up for pre-order at most major retailers. I can't wait for you to meet them!
Amazon: http://amzn.to/1M6X65I
Barnes & Noble: http://bit.ly/1GsdYxH
iBooks: http://apple.co/1Pm4sRk
Google: http://bit.ly/1FSsSSI