Each Wednesday in April, I'm giving away a prize to a random newsletter subscriber. That'll give us a fun countdown until the release of my second Matchmaker romance, To Charm a Naughty Countess, on May 6.
This week (ending April 16) features my Matchmaker trilogy. Maybe you've read the first book,It Takes Two to Tangle–but have you listened to it? This is a Regency Cyrano tale, and it's the first of my books to be adapted for audio. It's beautifully narrated by British voice actress Michelle Ford; I absolutely love the way she makes Henry and Frances's story come alive in a new way. (You can listen to a sample here
This week, someone will win a copy of It Takes Two to Tangle in an unabridged audio edition on eight CDs. And in this prize package, I'll also include a signed advance copy of To Charm a Naughty Countess.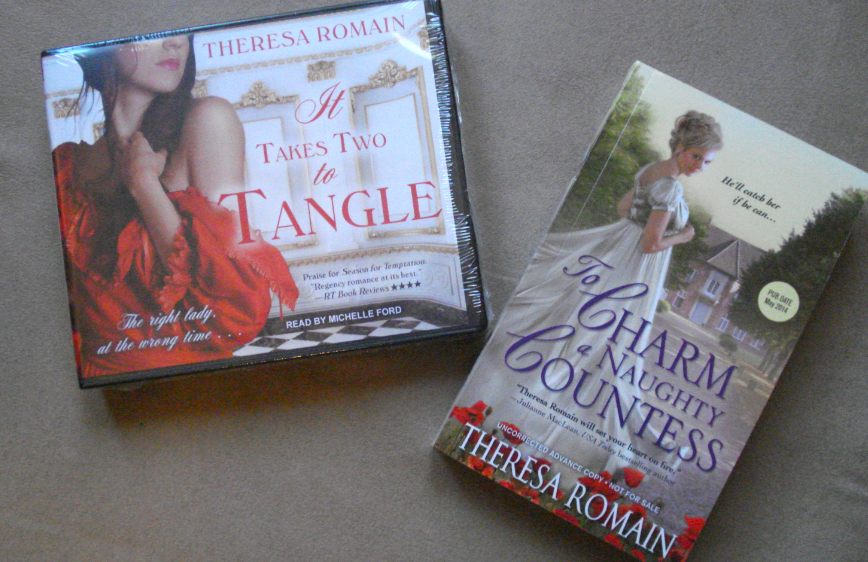 If you've signed up for my newsletter in the past, you're already entered in this giveaway! If you're keen to subscribe now–well, thank you. Much appreciated. Here's an easy form field to get you started:
A promise to all my subscribers: I'll never spam you or share your email address. I'll send out a newsletter only when I have a significant announcement like a new book release. If you ever want to unsubscribe (what??), it's very easy. There's an "unsubscribe" link in every newsletter.
The fine print: No purchase necessary. Void where prohibited. Winner will be drawn at random at approximately noon ET, April 16, 2014, from among all Theresa Romain newsletter subscribers at least 18 years of age (USA and international). The winner will be contacted by email within a week of the close of the contest, and the winner's first name and state/country will be posted on the site.
Thanks, dear readers, and good luck in the giveaway!