Hey, dear readers! I've got all kinds of updates for you. That's one of the good things (maybe the only good thing) about being a lazy blogger: when I finally do post, the post is AFLAME WITH OPPORTUNITY.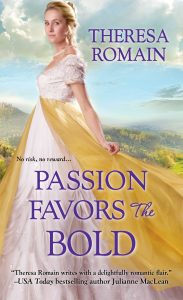 First of all–I have a book out tomorrow! Passion Favors the Bold is the second historical romance in the Royal Rewards series. If you read book 1, Fortune Favors the Wicked, you met Hugo and Georgette. Now their love story is told! It's a sassy but heartfelt best friend's little sister romance. Night Owl Reviews and RT Book Reviews have each given Passion Favors the Bold a Top Pick review. I hope you'll like it too.
The regular ebook price is just $4.99, which is good for a new release. And as of this writing, Amazon has also knocked the print price down by 25%, so it's only $5.98. Go get 'em!
Print: amazon • barnes & noble • book depository • books-a-million • indiebound • indigo • kensington • powell's • target • walmart • watermark
Ebook: kindle • nook • kobo • ibooks • kensington • google
---
Speaking of cheap books, my recent novella My Scandalous Duke is on sale until the end of this week. Grab it by Friday if you want it at the 99-cent sale price! On Saturday, it returns to the regular price of $2.99. Which, hey, is still a good deal for a stand-alone story featuring inappropriate flowers, a surprise piano, and (above all) friends who finally become lovers.
Ebook: kindle • nook • ibooks • kobo
---
In other recent news that is lovely and fun, I was invited to join Sarah Wendell for the weekly Smart Podcast, Trashy Books. You can find it through iTunes (it's episode 231) or just listen on the Smart Bitches website. Voila! Sarah even thoughtfully included a picture of me in my Reading Rainbow shirt. Be inspired, y'all.
Sarah also hosts a semiweekly live stream on YouTube, and on February 18, she read the first chapter of Passion Favors the Bold on air. It was very cool to hear her take on the characters. (Thank you, Sarah!) The whole live-stream episode is here; if you want to hop straight to the romance-reading part, it starts at about 32 minutes in.
---
Thanks, gang! Hope you enjoyed all the news. If you want to be sure to stay posted, sign up for my newsletter. The easiest place is right on the Home page.