I'm so excited to announce a new anthology from Vanessa Kelly, Christi Caldwell, Shana Galen, and me! The Dukes of Vauxhall will include four all-new historical romance novellas and will be available in just 3 weeks–on May 9.
Check out the gorgeous cover art: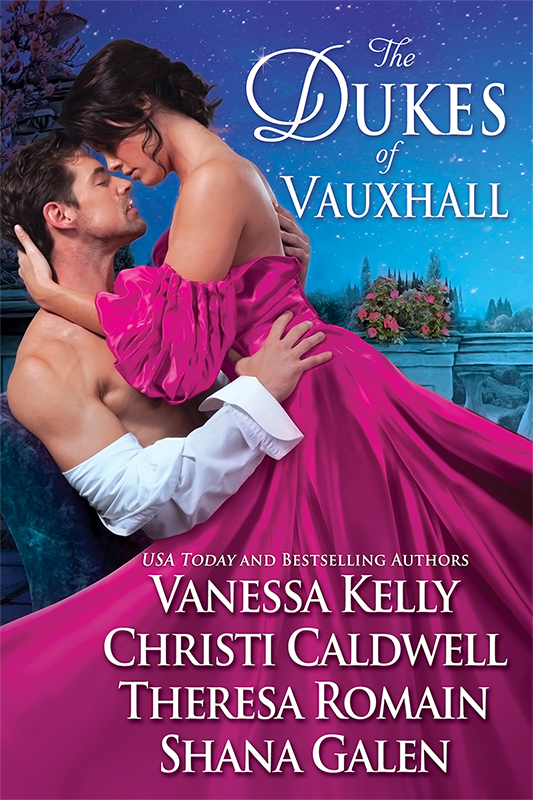 Right now you can pre-order The Dukes of Vauxhall on Amazon and Barnes & Noble. Kobo and iTunes links are coming soon, and a print version will become available during release week.
Here's a bit more about the anthology:
Four dukes. Two balls. One prizefight.
Vauxhall Pleasure Gardens will never be the same.
After England's victory in the Battle of Waterloo, the Prince Regent arranges a series of lavish celebrations at London's notorious Vauxhall Gardens. The royal festivities bring together the rich and the desperate, the criminal and the lordly…and allow four very different dukes to find the love of a lifetime.
A proper viscount is kidnapped by a duke of the criminal underworld, only to encounter a mysterious woman from his past. A retired prizefighter, once known as the Duke of the Ring, stakes his reputation on a scrappy young boxer for the sake of a long-lost love. A traveler who inherited a dukedom needs a tightrope dancer's help with a fake engagement that just might turn real. And the buccaneer son of a royal duke goes hunting for a respectable, highborn wife to salvage his scandalous reputation.
Let the pleasures begin…
Taken By the Duke by Shana Galen
Fighting for His Lady by Christi Caldwell
The Prodigal Duke by Theresa Romain
The Buccaneer Duke by Vanessa Kelly
On my website, you can now read the first scene from my novella, "The Prodigal Duke." The heroine is a tightrope walker (!!), which was a lot of fun to research.
Now, I also promised you sales in this post's title–and right now, there are sales galore on my books. Click the title links to be taken to the books' individual pages on my website, where you can find vendor links, reviews, and excerpts.
In my Matchmaker trilogy, It Takes Two to Tangle–a gender-flipped Cyrano story–is $1.99. And Secrets of a Scandalous Heiress, which was a finalist for the prestigious RITA® award, is just 99 cents! If you prefer to read in print, It Takes Two to Tangle is currently $5.24 on Amazon.
But wait, there's more! (I've always wanted to say that.) The second novel in my Romance of the Turf trilogy–Scandalous Ever After–will be out in July, and right now you can get caught up on the trilogy for less than two bucks. The enemies-to-lovers prequel novella, The Sport of Baronets, is 99 cents, and so is the first novel, A Gentleman's Game. Print readers, here's another deal for you: A Gentleman's Game is $4.14 on Amazon. That's almost 50% off for a brand-new paperback!
Go forth and complete your backlist collection. And keep an eye on my Facebook and Twitter pages, where I'm most likely to announce sales as they go live. Thanks, dear readers!