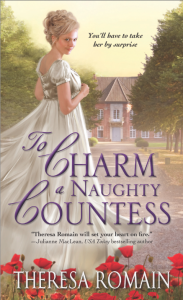 Each Wednesday in April, I'm giving away a prize to a random newsletter subscriber. That'll give us a fun countdown until the release of my second Matchmaker romance, To Charm a Naughty Countess, on May 6.
To Charm a Naughty Countess was fun to write, because it plays with the conventions of experience: sexual, social, romantic, and emotional. In this romance, the hero has less of every type than the heroine–though as he's a duke, he has pride enough to spare. I'm really delighted that Booklist has weighed in on this story, saying Caro and Michael's romance "will wow readers with its perfectly imperfect protagonists and emotionally compelling plot. With this superbly written novel it is easy to see why Romain is one of the rising stars of Regency historical romance."
*falls over*
*gets up, dusting self off*
Ok, so–we were talking about experience. I'm drawn to any historical romance with a virgin hero, because that type of character allows genre conventions to be shaken all around. Why did he make that choice? What are his attitudes toward women, toward romance, toward society? The answers are different for every hero, and that's the fun of it.
In this week's prize, I'm sharing some of my favorite historical romances with virgin heroes. Each takes place in a different time period, so you can get a taste of how these authors interpret male virginity in society over time. (Confession: the time-period thing really just worked out by chance. But isn't it cool?)
The prize includes the winner's choice of print, Kindle, or Nook copies of the following three books: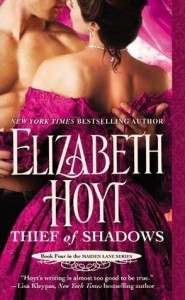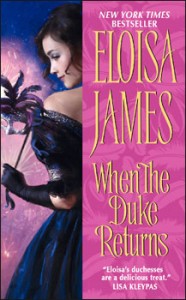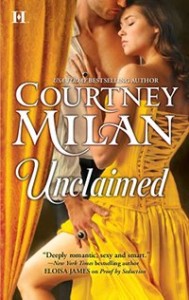 *Elizabeth Hoyt's Thief of Shadows  (set in 1737)
*Eloisa James's When the Duke Returns (set in 1784)
*Courtney Milan's Unclaimed (set in 1841)
I'll also include a signed advance copy of To Charm a Naughty Countess (set in 1816). Print only for this part of the prize.
If you've signed up for my newsletter in the past, you're already entered in this giveaway! If you're keen to subscribe now–well, thank you. Much appreciated. Here's an easy form field to get you started:
A promise to all my subscribers: I'll never spam you or share your email address. I'll send out a newsletter only when I have a significant announcement like a new book release. If you ever want to unsubscribe (what??), it's very easy. There's an "unsubscribe" link in every newsletter.
The fine print: No purchase necessary. Void where prohibited. Winner will be drawn at random on April 30, 2014, from among all Theresa Romain newsletter subscribers at least 18 years of age (USA and international). The winner will be contacted by email within a week of the close of the contest, and the winner's first name and state/country will be posted on the site.
Thanks, dear readers, and good luck in the giveaway!