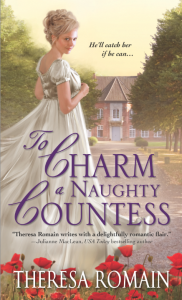 It's less than two months until the release of TO CHARM A NAUGHTY COUNTESS, my Regency version of the Pygmalion story. Anxious virgin duke hero! Rakish heroine! Regency gadgets! This was a fun story to write, and I hope you guys will enjoy reading it. You can read Chapter 1 on my site right now.
To help celebrate this book release on May 6, I'm going to offer weekly giveaways throughout April. I'll announce prizes ahead of time, and every Wednesday in April, I'll give one away. Needless to say, they will be super-fun and excellent prizes.
How do you enter those giveaways? Just subscribe to my newsletter. (You can do that here or in the little form field on the Home page. Or, heck, sign up by entering my spring romance giveaway and have a chance to win books while you're at it.)
Each week in April, I'll choose a random winner from all my newsletter subscribers. International entrants will be welcome, and no purchase is ever necessary. I never spam my newsletter subscribers. Here's when you'll get a newsletter from me:
When I have a new book out.
…Actually, I think that's it. Yep, when I have a new book out. That's when I'll send you a newsletter. And it'll have an exclusive excerpt in it just for subscribers, so newsletter-readers get a peek at the book that no one else gets (until, ok, someone gets and reads the whole book).
Made it this far? Whew. Good. Because even though it's not April, I want to run a giveaway. And no, this one doesn't have anything to do with the newsletter. It's just for fun, because I like giving away books. Today the prize is a trio of red historical romances, because these three books looked so lovely together.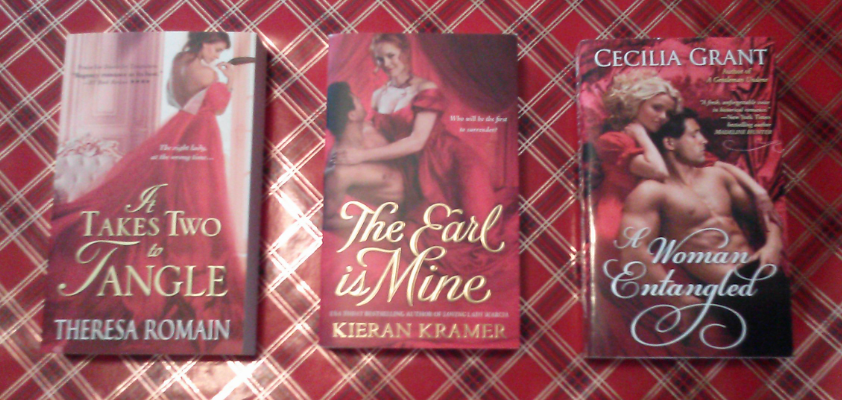 Someone will win a SIGNED copy of my Regency take on the Cyrano story, IT TAKES TWO TO TANGLE, along with Kieran Kramer's bubbly THE EARL IS MINE (such fun–it features a sugar-sculptor heroine!) and Cecilia Grant's beautifully written A WOMAN ENTANGLED, one of RT Book Reviews's Best Books of 2013.
Giving away books (and getting books!) is, I think, one of life's little pleasures. What about you–what makes you happy? To enter the red-trio giveaway,  just leave a comment about something that makes you happy. Big or small, it's all good. I'll pick a winner at random from among all entrants at noon ET on Sunday, March 9. US addresses only for this giveaway, please.
Thanks, and happy reading!