*rubs hands together* This is going to be fun.
As you all know–I hope!–my next historical romance will be out on January 6. SECRETS OF A SCANDALOUS HEIRESS will wrap up the Matchmaker trilogy with a crafty heroine, a bit of fortunate (?) blackmail, and an Anglo-Indian hero with a few secrets of his own.
On that same day, author Vanessa Kelly releases her newest Renegade Royals historical, HOW TO PLAN A WEDDING FOR A ROYAL SPY. As you guys ALSO know, Vanessa is one of my favorite authors, and she has a sense of humor that I just adore.
So Vanessa and I decided to offer a giveaway for you all. And we decided to make it a little sassy.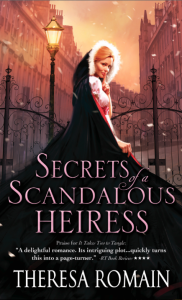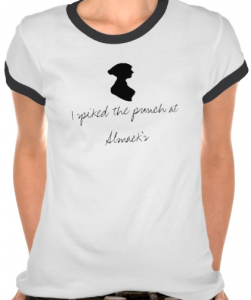 Someone will win a print ARC of SECRETS OF A SCANDALOUS HEIRESS, plus that excellent "I Spiked the Punch at Almack's" t-shirt with a silhouette of the great Jane Austen.
And someone else will win a print ARC of HOW TO PLAN A WEDDING FOR A ROYAL SPY, plus one of those Almack's shirts.
Two winners, two prizes. Two well-dressed early readers.
For a chance to be one of them, just enter through this Rafflecopter widget:
Entries will be accepted from November 3 to November 10. US and Canada addresses only, please. Winners will be chosen at random through the magic of Rafflecopter.
Best of luck, and thanks for entering the contest!