So it's July already. I…have no idea where June went? It included the end of a revision, plus copyedits, planning for a new project, a family trip, a sprained ankle, Little Miss R's birthday, and numerous cups of coffee. Despite the month's mysterious disappearance, I think it all went pretty well, and I hope your summer is going well too (or your winter, if you hail from the Southern Hemisphere).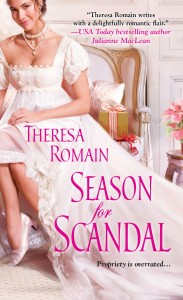 As a Christmas-in-July treat for us, my publisher has placed the ebook edition of my third Holiday Pleasures romance, SEASON FOR SCANDAL, on sale all month. It's just $1.99, a 66% discount off the list price! If you haven't read it yet, no worries about hopping in with book 3. Each story in the Holiday Pleasures series can stand completely on its own.
SEASON FOR SCANDAL is my only romance so far to tell the story of a married couple. Jane and Edmund move quickly from marriage of convenience to marriage in trouble to scandal–and eventually, of course, to HEA. You can read Chapter 1 on my website here. The $1.99 sale price is good at:
kindle • nook • kobo •  ibooks • all romance • google
And in an altogether different kind of sale…well, scroll down to my name on this page. *waits excitedly* Did you see? Did you?? The Matchmaker trilogy will be published in France! C'est formidable! So far I don't have much info beyond the French publisher's plan to bring out all three books in 2016. I'll let you know when I get more details.

A new website contest always goes up on the first of the month, and I've just posted the July contest
here
. It's open to international entrants and will include unspecified historical romance-y prizes. Why unspecified? Well, I'm going to bring the prize back from the Romance Writers of America conference later this month, and I don't yet know what I'll transport back with me. I can promise it'll be good, though!
As for that conference: it's in New York City, and on July 22 there's a book signing that's open to the public. Hundreds of romance authors, thousands of readers, tens of thousands of signed books–all for a good cause, to benefit literacy organizations in the area. If you're in NYC, I hope to see you there! If you click the link in this paragraph, you'll see a full list of all the authors appearing at this event. I am fangirling already.
What are you up to this summer? Any travel in your plans? Any fabulous books on your wish list?