Hey, dear readers! Lots of fun news to share today, including gorgeous cover art and a big giveaway.
I've hinted on my Coming Soon page that I've been working on a historical romance anthology, A Gentleman for All Seasons, with some of my favorite authors: Shana Galen, Vanessa Kelly, and Kate Noble. Today we're ready to share cover art and tell you all about it!
First, the cover: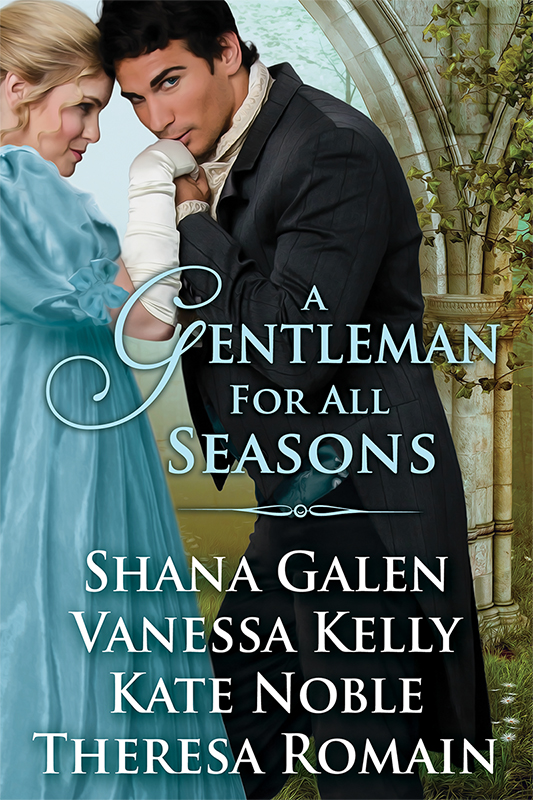 Isn't that lovely? (You can click on the image to see it even larger.) Credit goes to Carrie at Seductive Designs. We told her we wanted something with a saucy, sweet feel, and she worked on different elements until this was the beautiful result. We couldn't be more pleased.
As for what it's about? There are four connected novellas set in a village. Each is set in a different season of the year–thus the anthology title. Here's a bit about the stories…
A GENTLEMAN FOR ALL SEASONS

The tiny village of Hemshawe is the sort of place where nothing ever happens…until a handsome ex-soldier and his matchmaking sister let the imposing manor house at the edge of town. The friendly Londoners shake up the staid people of Hemshawe, and villagers see each other in a new and oh-so-appealing light.

Suddenly long-sparring enemies become lovers, a town festival heralds a new start for a fallen woman and a dandy, and a man who has given up on love gets a second chance with the woman he never forgot. And the matchmaker herself? She won't rest until she finds her own happily-ever-after…

A Madness in Spring by Kate Noble

Adam Sturridge has made Belinda Leonard's blood boil since childhood, and the feeling is mutual.  But when a would-be matchmaker arrives in the village of Hemshawe, she'd determined to erase the thin line between love and hate.  Now, Belinda and Adam are faced with falling for someone they've always considered an enemy — can they overcome old prejudices and discover how to rub each other the right way?

The Summer of Wine and Scandal by Shana Galen

When viscount's son and dandy Peregrine Lochley is temporarily exiled from London to the country for his misdeeds, the last thing he expects is to encounter an intriguing woman. But Caroline Martin has a secret to hide, and it just might be too scandalous for even this debauched rogue.

Those Autumn Nights by Theresa Romain

Ten years ago, wealthy Eliza Greenleaf broke lowly soldier Bertram Gage's heart—but the last decade brought changes in fortune to them both. Now that he's made his mark on the world, a twist of fate brings the Greenleaf family under his power. Will this war-hardened officer triumph over his former lover…or will Bertie and Eliza give love a second chance?

The Season for Loving by Vanessa Kelly

Miss Georgie Gage, matchmaker extraordinaire, is resigned to life as a spinster—almost. When notoriously aloof bachelor Fergus Haddon arrives from Scotland to spend Christmas with the Gage family, Georgie thinks she's finally found her own perfect match—if, that is, she can get the handsome Highlander to agree!
The anthology will be published digitally on November 10, and a print edition will be available very soon afterward.
Got an e-reader? You can pre-order A Gentleman for All Seasons now.
More links will be added as the anthology goes live on more retailers, so keep checking back today!
Now, I did mention a giveaway–and here it comes. Shana, Vanessa, Kate, and I wanted to give you awesome readers a treat as thanks for joining us for the cover reveal of A Gentleman for All Seasons. So we've set up a giveaway: one winner will get his/her choice of one backlist book from each of us. This giveaway is open internationally! You can enter through the Rafflecopter here:
Any questions? Comments? Wish you could get a kiss on the hand from that guy? (Don't we all…) Let me know! And thanks very much for stopping by. We're so excited about this upcoming release, and we're so glad you're sharing in the fun.