Readers have waited impatiently (I know I have!) since Vanessa Kelly's most recent witty, sexy historical romance was published in October 2012. But oh, the wait is so worth it: behind the scenes, Vanessa has been dreaming up a whole new series of delicious historicals. The first novella in the Renegade Royals series, "Lost in a Royal Kiss," will be available tomorrow–and after that, the first novel will follow in January.
A quick plot summary of LIARK? You got it:
With her widowed mother working long hours as governess to the royal children, Linnet St. Clare must look after her siblings and run the household. Now she must add to her worries the fate of Dominic, a poor orphan who has inspired the wrath of the king himself. Clearly Linnet has no time to consider her own desires—much less notice the attentions of a certain handsome, powerful magistrate…
Sir Anthony Tait is at a loss for how to capture Linnet's interest. If only she would be still long enough for courting. Outright seduction seems the only answer. But will his kisses be enough to persuade her—or might Anthony have something to learn from young Dominic about matters of the heart? And in saving the boy's future, might Anthony and Linnet at last create their own?
Vanessa has kindly agreed to tell us about her new series, and she's even offering an advance giveaway of her January book, SECRETS FOR SEDUCING A ROYAL BODYGUARD. Read on for the intriguing backstory on the Renegade Royals and a chance to win SECRETS!
*     *     *
Vanessa, thank you so much for visiting today!
I love romances that incorporate real-life history into the plot, as in your new historical romance series, The Renegade Royals. These stories include historical figures from King George III's family. What inspired the series, and how did you research the real people you wrote about?
And there are so many colorful historical figures in the Regency period to work with, don't you think?  Really, who could be more over the top than the Prince Regent and his brothers?  Murder, incest, adulterous affairs, scads of illegitimate children…you name, the royals had it all.
The genesis for this series was a tidbit of information I stumbled upon in a book about the daughters of King George III.  Queen Charlotte had taken in a charity case—a young boy—to be raised as a companion to the royal princes.  It was, apparently, a misguided impulse, since the Prince of Wales, for one, resented the unfortunate charity boy.  Although there were only a few mentions of this boy—I couldn't really track down any additional information—I was intrigued.  What would life be like for a child of humble origins raised with royalty and yet never truly a part of their world?  And what happened to this mysterious child; where in life did he end up?
Well, my feverish writer's brain went to work trying to answer those questions.  I invented the character of Dominic Hunter, a poor orphan raised with the royal princes and whose story arcs through most of The Renegade Royals.  Dominic is introduced as a fourteen year old boy in Lost in a Royal Kiss, which takes place in 1786, and he then reappears as a powerful spymaster in Secrets for Seducing a Royal Bodyguard.  He's the connecting point for the heroes in the series, who are all illegitimate sons of the royal princes.  Dominic helps my heroes find their heroines, and along the way he'll find his own HEA, as well.
What was one of the most interesting or surprising tidbits you found in the course of your research for this series?
Oh, dear!  I think I just answered that question, didn't I?  Okay, some other interesting tidbits had to do with the outrageous behavior of the various royal princes.  Until I began researching them in depth, I hadn't truly realized they were such unrepentant bad boys.  Really, the term Regency rake could have been invented for them.  They drank, gambled like maniacs, had numerous affairs, and fathered a ridiculous number of illegitimate children.  It wasn't much of a stretch to add a few fictional offspring into the mix.
The Renegade Royals series kicks off with a novella, "Lost in a Royal Kiss," on November 26 (that's tomorrow!). The heroine and hero—Linnet and Anthony—hail from different social backgrounds, but they're equally determined. How did you come up with these characters, and what makes them perfect for each other?
Again, it all starts with Dominic.  I knew he would be in some sort of serious trouble at Court, and that he would need a defender.  That would be Linnet, a no-nonsense spinster whose mother is an attendant to the royal children.  Although Linnet is from a genteel background her family is relatively poor, and she has little prospect for making a good marriage.  Anthony, on the other hand, is a wealthy and powerful magistrate who has the ear of the king.  What they do share, however, in addition to the fact that they're both stubborn, is an innate sense of justice and a determination to make the world a better place.  In helping Dominic, they come to realize how well suited they are as a couple.
Plus they're both really hot for each other, which always helps!
Indeed it does.

What's coming up next for you?
I'm getting organized for the release of the first two books in The Renegade Royals, Secrets for Seducing a Royal Bodyguard and Confessions of a Royal Bridegroom.  They'll be out on January 7 and April 1, 2014.  I'm also in the middle of writing the second novella in the series, which is about Dominic and the culmination of the search for his lost love.  That novella will be out in November, 2014.
Thanks so much!
Thank you, Vanessa!
*     *     *
Vanessa is offering an advance copy of SECRETS FOR SEDUCING A ROYAL BODYGUARD to one commenter on this thread! Want to give yourself a delightful read more than a month before the book releases? Then just let us know: who's your favorite historical figure? Or if a person doesn't come to mind, what's your favorite time period to read about?
This giveaway is open to US and Canada entrants age 18 and over; the winner will receive a print ARC. One winner will be chosen at random from among all commenters by 5 pm ET on Wednesday, November 27. Good luck!
*     *    *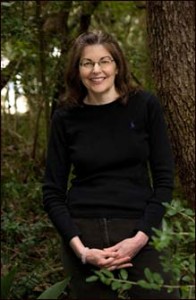 Order "Lost in a Royal Kiss":  Kindle • iBook • NOOK
Vanessa Kelly is an award-winning author who was named by Booklist, the review journal of the American Library Association, as one of the "New Stars of Historical Romance." Her sensual, Regency-set historical romances have been nominated for awards in a number of contests, and her second book, Sex and The Single Earl, won the prestigious Maggie Medallion for Best Historical Romance. Vanessa's next series, The Renegade Royals, is due to hit the shelves on Nov. 26 with Lost in a Royal Kiss. Book one in the series, Secrets for Seducing a Royal Bodyguard, will release in January 2014.