Get ready. We're going to talk about sweets.
See, next Tuesday is Mardi Gras, which translates as "Fat Tuesday" and is generally thought of as an excuse for half the world to party on the streets of New Orleans. But if you won't be in Louisiana, you can still celebrate the day. The most iconic Mardi Gras food is king cake, which people enjoy for the whole Mardi Gras season (from the day after Epiphany through Mardi Gras itself, which is the day before Ash Wednesday).
For those of you not in Louisiana, it might be difficult to get hold of a king cake. WELL. I am here to tell you how you can totally make a king cake for yourself, and you won't even have to mess with the horror of yeast bread. Here's what you'll need:
*two cans of big fat cinnamon rolls (probably they'll have five in each can)
*sugar
*food coloring
*optional: some kind of doohickey to hide in the cake. Tiny plastic babies are traditional, but you can simply use a clean coin.
That's it. Oh, and an oven and a pan and all, but you were figuring on that.
First, pop open the cans of cinnamon rolls and unroll nine. You're going to make three braids.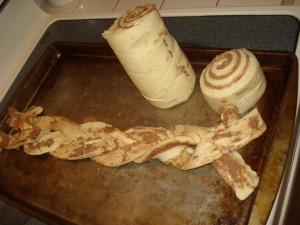 I just braided these on a sheet pan, which by the end looked like I'd butchered a cinnamon tree on it. You can use a pastry sheet, a sheet pan, your counter, whatever.
If you think that making three braids leaves you with an extra cinnamon roll–three braids requiring only nine, when you possess ten–you are quite right. The tenth cinnamon roll is for you to bake in the center of the king cake and gobble up while you are icing the finished cake.
Ok. Here we go. Three braids, and you sort of mush them together and arrange them in a circle on your giantest pizza pan. Don't be like me; remember to put foil on it first. (Oops.) If you don't have a giant pizza pan, you can use a sheet pan and just make it in an oval shape.
Now just bake this however it says on the cinnamon-roll can. About 24 minutes at 350 is a good guess.
While the cake-part is baking, you have some work to do. Put about 1/2 cup of granulated sugar in each of three little bowls. Now haul out that food coloring and tint one bowl green, another yellow, and another purple. (Note: being able to blend a decent-looking purple wins you a gold star.) As for the icing that came with the cinnamon rolls, scoop it into a bowl of its own and thin it with a little milk. You're looking for a thick glaze rather than a spreadable frosting.
Ding! The cake part's done. Here we go, ready to decorate. (Right after I took this picture, I realized my foolish error and stuck a bunch of foil under the pan. Because messy.)
If you want to stick a secret doohickey into your cake, this is the time: after it's baked, but before you decorate it. The significance of the doohickey is that whoever gets it in their piece has to host the next party/make the next king cake. I didn't put one in here, because it can be a choking hazard for Little Miss R-aged people. But if you want to put a trinket in and don't have access to a tiny plastic baby (what??), a clean coin will do. Make it a big one–at least a nickel, maybe a quarter–so it can't accidentally be swallowed.
Onward. About 1/4 of the cake at a time, spoon the glaze over everything and then shake the colored sugar on in stripes. Shoot for three stripes in each quarter and you'll wind up with a nice bright even-looking decoration. Yep, the glaze dribbles and blobs everywhere. (And THAT's why we want foil.)
If you have extra glaze left at the end, just drizzle it over the top, and it'll sink into the sugar even more. If you have extra colored sugar left, put it in your sugar bowl and cause your significant other to do a huge double-take when he/she spoons some out for his/her coffee the next morning. (Purely hypothetical situation.)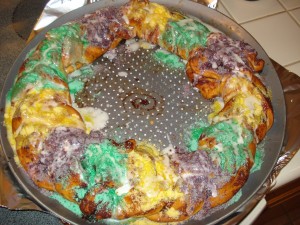 You're done! Cut it up and enjoy it. You should get the first piece, because the cinnamon roll you baked for yourself in the center of the pan was neatly co-opted by your family. (Again, hypothetical.)
If you make a king cake, let me know how it turns out. And if you make yours from scratch, I honor you and admire you. Happy Mardi Gras week!