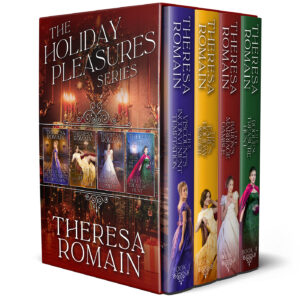 Just like it says in the post title: the Holiday Pleasures series is now available as a digital box set! For half the price of individual titles, you can get all four of these romances–and I've included three bonus stories as well.
amazon • apple • barnes & noble • kobo
The box set includes:
The Viscount's Inconvenient Temptation
A lighthearted Regency friends-to-lovers tale full of family, the delights of the London season, and an unbelievable number of biscuits.
At a notorious house party, a fake rake and a bold bluestocking ignite a Christmas scandal…
He needs a wife. She needs an escape. Theirs would be the perfect marriage of convenience—if she didn't love him.
A merry class-difference road romance full of codes, puzzles, and found family at Christmas.
Bonus stories:
"In Which Viscountess Roseborough Removes Her Disguise"
"Room for One More"
"When in Venice"
As I mentioned, the box set is only in a digital format. But individual titles are still available, and you can get those in trade paperback as well as ebook format.
Happy reading!