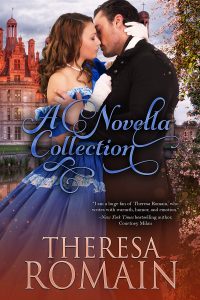 An anthology
Self-published (May 14, 2019)
ASIN: B07QYYNCJ2
ISBN: 978-1095846742
Ebook: amazon • apple • barnes & noble • kobo
Print: amazon
Four Previously Published Novellas, Collected for the First Time
Lady Ada Ellis has been hiding in Berkshire since a scandal rag published secrets that led to her public jilting. When charming reporter Colin Goddard comes calling for a new story, Ada suggests a fake relationship to fool her detractors…but she might lose everything, including her heart.
Leo Billingsley never expected to inherit the Westfair dukedom. Poppy Hayworth never expected to become a tightrope walker. When these childhood sweethearts find each other anew, will they rediscover love—or be parted by secrets?
Practical young widow Lady Eleanor Palmer wants a family of her own—and after a disastrous first marriage, she requires a proper husband. Unless her lifelong friend, the roguish Duke of Hampshire, can convince her he's everything she truly desires…
Ten years ago, wealthy Eliza Greenleaf broke lowly soldier Bertram Gage's heart. Now that he's made his mark on the world, will this war-hardened officer seek revenge…or give love a second chance?