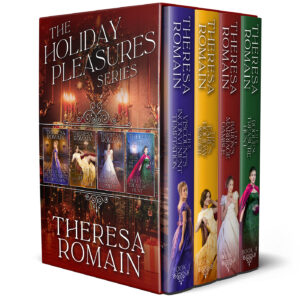 Complete series box set
Self-published (November 14, 2023)
ASIN: ‎ B0CLKW94SM
Ebook: amazon • apple • barnes & noble • kobo

Enjoy a quartet of delicious Regency-set romances with Christmas elements…
In one box set, Theresa Romain brings you the complete Holiday Pleasures series. Includes four novels and three bonus stories!
The Viscount's Inconvenient Temptation
A lighthearted Regency friends-to-lovers tale full of family, the delights of the London season, and an unbelievable number of biscuits.
At a notorious house party, a fake rake and a bold bluestocking ignite a Christmas scandal…
He needs a wife. She needs an escape. Theirs would be the perfect marriage of convenience—if she didn't love him.
A merry class-difference road romance full of codes, puzzles, and found family at Christmas.
Bonus stories:
"In Which Viscountess Roseborough Removes Her Disguise"
"Room for One More"
"When in Venice"