Dear readers, I feel as if I've spent half the month of March on an airplane! This has been a month of much travel for me, with two trips to North Carolina. In between, Little Miss R had spring break, so there hasn't been much of what I'd call a "normal" schedule this month. Now that things are a bit calmer, I can happily report that it's all been lovely. Here's what's up.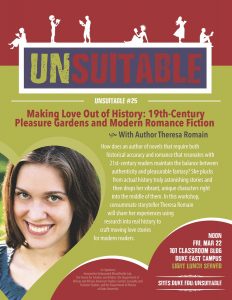 The first trip to NC was purely for family, while the second was to present at Duke University as part of the UNSUITABLE lecture series. Check out the official-looking poster for the event! Using my novella "The Prodigal Duke" as a sort of case study, I spoke with a fabulous, engaged audience about historical research methods–especially Vauxhall Gardens and tightrope walking. The tightrope-walking heroine of The Prodigal Duke was inspired by a real-life wire-walker named Madame Saqui, and we all had a great time looking at historic images and talking about the balance between history and fiction.
What else happened this month? Why, something new has popped up for pre-order: my June novella duet with Grace Burrowes, called How to Ruin a Duke.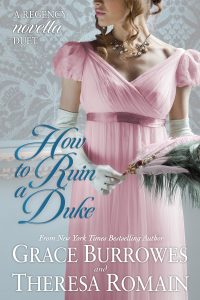 Grace and I worked together for the now-retired novella duo The Duke's Bridle Path in 2017 (Desperately Seeking Scandal was my novella in that duo), and I'm so glad we could write together on another project. With all my travel, I'm not quite done with my novella yet, but Rowena and Simon's story is coming together nicely. I hope you'll all enjoy meeting them in June, along with Grace's couple!
Also coming soon: a boxed set reissue of some of my older novellas. Reissuing a collection will allow me to create a print edition for those of you who prefer that format, and the collection will represent a discount over buying each novella separately. This box set will be posted soon on my site and my social media accounts, so check in on Facebook and Twitter and you'll get the latest scoop. You can also subscribe to my newsletter for big news like new releases.
Thanks for reading–and if you're traveling this month, may you be safe and well!