Dear readers,
You might recall from the bajillion reissues last year that many of my books went out of print at about the same time. I've been working since then at updating them with new covers and book descriptions, sometimes edits, and sometimes even new formats. And the next series to get the treatment? The Royal Rewards quartet, which begins with a treasure hunt for a fortune in stolen gold coins.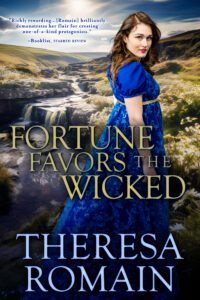 The series starts with Charlotte and Benedict's love story, Fortune Favors the Wicked, which has been out of print for well over a year. Today the ebook is available again, and the print edition is coming soon; I would guess later this week. An audiobook is also available.
Charlotte is a courtesan on the run; Benedict is a blind ex-sailor/physician. They both need the treasure to begin a new life–so they might as well work together, right? If you've read this story before, it's the same as it always was. It just as a lovely new cover.
If you haven't read it, I hope you'll check it out. Charlotte and Benedict like and enjoy each other so much; their scenes were a blast to write. But their lives are so different that they don't think they can have a happily ever after. (We know better, don't we?)
Order links and an excerpt can be found on the book's page here on my site. You'll also find trivia there about the real-life historical inspirations for this story.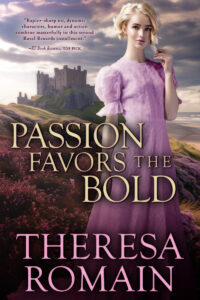 Coming up in four weeks, on September 26: Passion Favors the Bold, a best friend's little sister/road trip romance featuring Benedict's younger sister, Georgette, and his closest friend, Hugo. (You'll meet them briefly in Fortune Favors the Wicked.)
I've lightly revised this story to include even more romantic fun for Hugo and Georgette–but if you've read it before, it's still the same love story. I hope you all like the new cover art! The castle, the sea, and the heather are all a part of the story, and I'm so glad the cover artist was able to include them. (For that matter, you'll notice that the waterfall on the Fortune Favors the Wicked cover makes an appearance during a significant scene…)
Coming up after FFTW and PFTB, I expect to release Lady Rogue–the third Royal Rewards title–later in the autumn. And in time for the winter holidays, I hope to get you a box set of all four Holiday Pleasures books so you can enjoy some toasty romantic reading at a discounted price.
Happy reading!