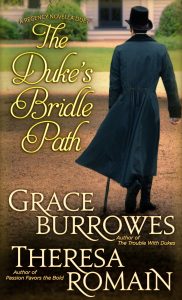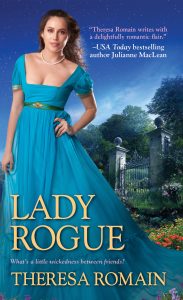 Welcome to the website of historical romance author Theresa Romain. For exclusive excerpts and book-release news, sign up for my spam-free newsletter:

Coming next from me is Lady Rogue, loosely related to the first two Royal Rewards novels. In this Regency take on How to Steal a Million, brusque Bow Street Runner Callum Jenks has to decide between law and justice when former lover Lady Isabel Morrow asks for his help with an art heist. You can read the first scene here.
If you're hungry for a stand-alone story, The Duke's Bridle Path is still available. In this duet of new Regency tales from Grace Burrowes and me, an old legend leads to (spoiler!) love for two very different couples. I loved working with Grace on this project, and I hope you'll enjoy reading these stories. You can find an excerpt from my novella, "Desperately Seeking Scandal," here.
If you'd like to learn more about me or my books, come find me on Facebook, Twitter, BookBub, and Pinterest. Happy reading!

The Latest On-Dits…
December 11, 2017 >> You can now read the first scene from Lady Rogue, coming April 24.
December 5, 2017 >> Scandalous Ever After has been named one of NPR's Best Books of 2017!