Welcome to the website of historical romance author Theresa Romain. For exclusive excerpts and book-release news, sign up for my spam-free newsletter:
The third Holiday Pleasures historical romance, SEASON FOR SCANDAL, is now in stores! This saucy but heartfelt tale features gambling, a marriage of convenience, and (as you might guess) a scandal or two. Smart Bitches, Trashy Books has given SEASON FOR SCANDAL an A+, saying, "Read the book! You'll be happy you did." It's available in print and digital editions; find links and read Chapter 1 here.
Also available: my first Matchmaker historical romance,  IT TAKES TWO TO TANGLE. This Regency take on the Cyrano story features a soldier with wounds and a widow with secrets. Eloisa James calls it "a beautifully written novel that balances laughter with healing." Hooray! Keen to read it for yourself? Find digital and print order links, plus the first chapter of the book, here.
Information about my other historical romances is available through the Books page. If you'd like to find out more, come chat with me on Facebook and Twitter. Happy reading!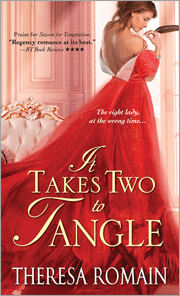 The Latest On-Dits…
December 9, 2013 >> Today marks the release of the IT TAKES TWO TO TANGLE audiobook, beautifully read by the talented Michelle Ford. All month, the audio CD and MP3 editions are half-price at Tantor Audio–where you can also listen to an audio sample from Chapter 1.
December 2013 >> 'Tis the season for giveaways! I've opened a winter website contest that will give prizes to both the contest winner and a romance-loving friend. And I'm delighted to be taking part in several holiday events this month. On the Ramblings from This Chick blog, I'm sharing an all-new story connected with SEASON FOR SCANDAL as part of the "Historical Christmas Eve" event. And on December 17, it's my turn to dish about favorite romance heroes in the Romancing Rakes for the Love of Romance annual Joyathon. Hope to see you there!
November 21, 2013 >> I'm delighted to share cover art for the second Matchmaker book, TO CHARM A NAUGHTY COUNTESS! This Pygmalion story features a rakish heroine and a virgin hero, and it'll be out on May 6, 2014. You can find the cover on the Books page and learn more about the image in this blog post.