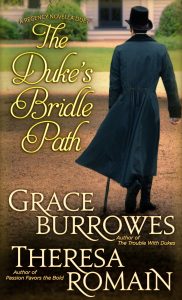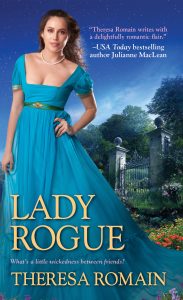 Welcome to the website of historical romance author Theresa Romain. For exclusive excerpts and book-release news, sign up for my spam-free newsletter:
If you're hungry for a stand-alone story, The Duke's Bridle Path is still available–but only until April 30.  In this duet of Regency tales from Grace Burrowes and me, an old legend leads to romance for two very different couples. You can find an excerpt from my novella, "Desperately Seeking Scandal," here. After April 30, Grace and I will eventually republish these stories on their own, but this is the last chance to get them as a pair.
If you'd like to learn more about me or my books, come find me on Facebook, Twitter, BookBub, and Pinterest. Happy reading!

The Latest On-Dits…
April 24, 2018 >> Lady Rogue is now available! Dear readers, I hope you love Callum and Isabel's story.
December 5, 2017 >> Scandalous Ever After has been named one of NPR's Best Books of 2017!