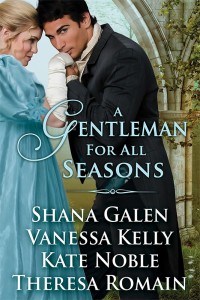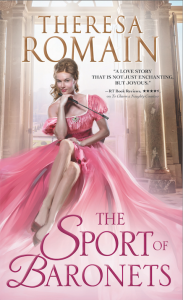 Welcome to the website of historical romance author Theresa Romain. For exclusive excerpts and book-release news, sign up for my spam-free newsletter:

In November, my new Romance of the Turf series begins with the release of an e-novella, The Sport of Baronets.  I'm excited about this trilogy set in the Regency horse-racing world, and I hope you'll love meeting the talented but troubled Chandler family. The first full-length novel in the trilogy, A Gentleman's Game, will be out in February 2016.
Also coming in November: A Gentleman for All Seasons, a historical romance anthology in company with three of my favorite authors! And in spring 2016 you'll get the first in a pair of historicals about Regency treasure hunters. All the info is posted on the Coming Soon page as well as the Books page, where you can also find information about my other historical romances.
If you'd like to learn more, come find me on Facebook, Twitter, and Pinterest. Happy reading!

The Latest On-Dits…
October 8, 2015 >> Excerpt week! The first part of A Gentleman's Game, Chapter 1, has been posted.
October 7, 2015 >> Chapter 1 of "Those Autumn Nights," my novella in A Gentleman for All Seasons, has been posted here.
October 5, 2015 >> Chapter 1 of The Sport of Baronets has been posted. Check out the excerpt here.
October 2015 >> The website contest features marriage-of-convenience romances! Easy entry here.
August 25, 2015 >> I've (finally) joined Pinterest and set up some boards! See you there?