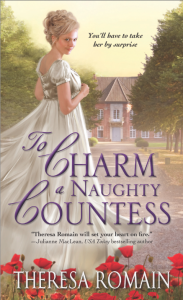 Welcome to the website of historical romance author Theresa Romain. For exclusive excerpts and book-release news, sign up for my spam-free newsletter:
The second historical romance in my Matchmaker trilogy, TO CHARM A NAUGHTY COUNTESS, will be released on May 6. This is a Pygmalion story featuring a virgin duke, a rakish heroine, and lots of Regency gadgetry. You can read an excerpt and find pre-order links here.
And this October marks the release of the fourth Holiday Pleasures romance, SEASON FOR DESIRE. It will stand on its own, as all my stories do–but if you've been reading this series from the beginning, you'll see some familiar characters and plots reach their (happily-ever-after!) conclusion.
Information about my other historical romances is available through the Books page. If you'd like to find out more, come chat with me on Facebook and Twitter. Happy reading!

The Latest On-Dits…
April 1, 2014 >> No April Fool's joke: every Wednesday this month, I'll give away a romance-themed prize to one of my newsletter subscribers. For the latest giveaway, check out the Contest page. And if you'd like to sign up for my newsletter, there's a handy form on that same page.
March 25, 2014 >> New on the blog, a cover reveal for SEASON FOR DESIRE–the fourth Holiday Pleasures romance, out this October. I've got beautiful coverflats, too. Let me know if you want one!
March 16, 2014 >> SEASON FOR SCANDAL is a finalist in the 2014 DABWAHA tournament for romance novels! It's in truly fantastic company and I've made some undignified faces of glee and delight.