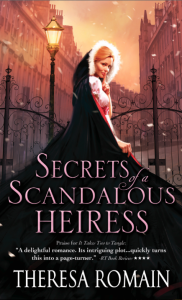 Welcome to the website of historical romance author Theresa Romain. For exclusive excerpts and book-release news, sign up for my spam-free newsletter:

The Matchmaker trilogy has concluded with SECRETS OF A SCANDALOUS HEIRESS. Our wild heroine meets her match in an Anglo-Indian hero with secrets of his own. Booklist found it "smart, sexy, and emotionally involving," and I hope you'll like it too!
Coming next: a historical romance anthology in company with three of my favorite authors, a new romance series based in the Regency horse-racing world, and a pair of historicals about Regency treasure hunters. The first details–including cover art!–have been posted on the Coming Soon page as well as the Books page, where you can also find information about my other historical romances.
If you'd like to find out more, come chat with me on Facebook, Twitter, and tsū. Happy reading!

The Latest On-Dits…
August 2015 >> Win historical romances with duke heroes! Easy contest entry here.
July 6, 2015 >> Book pages have been added for A Gentleman's Game (February 2016) and Fortune Favors the Wicked (April 2016). Check them out through the direct links, or see everything that's coming up on the new Coming Soon page.
June 28 to August 7, 2015 >> Season for Scandal, my third Holiday Pleasures romance, is discounted to $1.99 at all major ebook retailers. Read chapter 1 and find order links here.