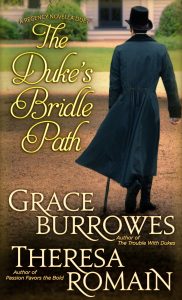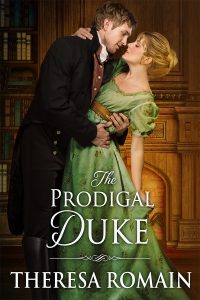 Welcome to the website of historical romance author Theresa Romain. For exclusive excerpts and book-release news, sign up for my spam-free newsletter:

I've just reissued my novella "The Prodigal Duke." If you read The Dukes of Vauxhall anthology, you've already read this tale of childhood sweethearts reunited for a fake engagement. If you haven't read Leo and Poppy's story yet, or if you simply want the gorgeous reissue cover art, then order now!
It's been a novella kind of fall, and The Duke's Bridle Path is still available. In this duet of new Regency tales from Grace Burrowes and me, an old legend leads to (spoiler!) love for two very different couples. I loved working with Grace on this project, and I hope you'll enjoy reading these stories. You can find an excerpt from my novella, "Desperately Seeking Scandal," here.
If you'd like to learn more about me or my books, come find me on Facebook, Twitter, BookBub, and Pinterest. Happy reading!

The Latest On-Dits…
December 5, 2017 >> Scandalous Ever After has been named one of NPR's Best Books of 2017!
November 14, 2017 >> "The Prodigal Duke," my novella from The Dukes of Vauxhall anthology, has been reissued as a stand-alone ebook.
September 12, 2017 >> It's release day for The Duke's Bridle Path! Grace Burrowes and I are excited for you to read our new historical romance novellas–in which an old legend gives two couples just the nudge they need toward an HEA…