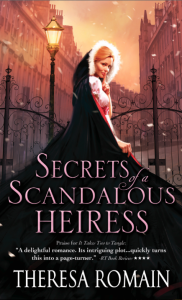 Welcome to the website of historical romance author Theresa Romain. For exclusive excerpts and book-release news, sign up for my spam-free newsletter:
On January 6,  the Matchmaker trilogy concludes with SECRETS OF A SCANDALOUS HEIRESS. Our wild heroine will meet her match in an Anglo-Indian hero with secrets of his own. Booklist found it "smart, sexy, and emotionally involving," and I hope you'll like it too!
Still available: the fourth and final Holiday Pleasures romance, SEASON FOR DESIRE. It stands on its own, as all my stories do–but if you've been reading this series from the beginning, you'll see some familiar characters and plots reach their (happily-ever-after!) conclusion.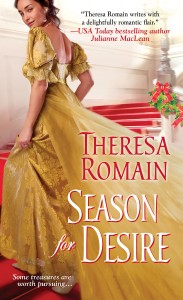 Information about my other historical romances is available through the Books page. If you'd like to find out more, come chat with me on Facebook and Twitter. Happy reading!

The Latest On-Dits…
December 1, 2014 >> A new website contest is open, with gifts for monthly winners and their romance-loving friends. And audiobook fans, there's a new Goodreads giveaway for an unabridged audio edition of IT TAKES TWO TO TANGLE. Check it out here.
November 1, 2014 >> I'm speaking about romance novels and signing SEASON FOR DESIRE at the 11th Annual Louisiana Book Festival in Baton Rouge. If you're in the area, I hope to see you there! You can find out more about the festival here.
October 7, 2014 >> Release day for SEASON FOR DESIRE! You can follow the blog tour on the News page. And once you've read SEASON FOR DESIRE, if you leave a review on Amazon or the Barnes & Noble site (or both!), I'll send you a link to a bonus short story. Get the details in my latest newsletter here.