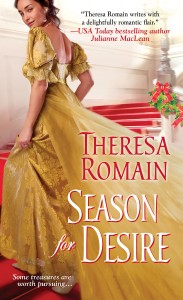 Welcome to the website of historical romance author Theresa Romain. For exclusive excerpts and book-release news, sign up for my spam-free newsletter:
This October marks the release of the fourth and final Holiday Pleasures romance, SEASON FOR DESIRE. It will stand on its own, as all my stories do–but if you've been reading this series from the beginning, you'll see some familiar characters and plots reach their (happily-ever-after!) conclusion.
Information about my other historical romances is available through the Books page. If you'd like to find out more, come chat with me on Facebook and Twitter. Happy reading!

The Latest On-Dits…
August 2014 >> A new contest is up! This one plays upon the back-to-school season, with a bookbag of historical romances by Elizabeth Essex, Caroline Linden, and me, along with a supply of swag. Enter here.
July 17, 2014 >> An "About the Book" section has just been added for TO CHARM A NAUGHTY COUNTESS. Check it out for behind-the-scenes facts about Michael and Caroline's story!