…to a Regency house party spanning Christmas to Twelfth Night. Mistletoe will be gathered, wicked party games will be played, and the library will play host to secrets and steamy encounters.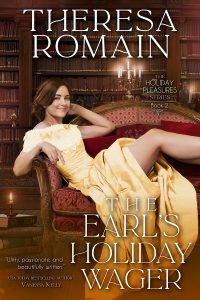 This eventful party can be found in The Earl's Holiday Wager, a rake-bluestocking romance in which both our hero and our heroine are struggling with unwanted reputations. Over the course of a house party, they remake themselves and, of course, fall in love. Louisa and Alex's love story was a lot of fun to write, and I hope you'll enjoy reading it.
Ebook: amazon • apple • barnes & noble • kobo
Print: amazon
This romance was originally published in 2012 as Season for Surrender. Since that time, I've given it a new title and a light edit–but if you read it in its first edition, this is basically the same story. Just so we're clear. 🙂
In the final days of summer vacation, I picked up a new hobby: lettering. I'm still very much a newbie, working on making letterforms consistent and developing a steadier hand, but the practice is really soothing for me. Today, to celebrate release day, I designed a fancypants rendering of the title.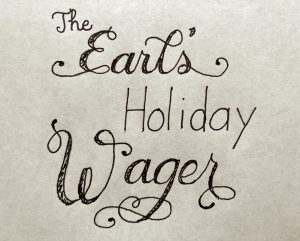 Louisa and Alex see a lot of ornate books; maybe they'd like this. Or at least accept it as an "it's the thought that counts" gift.
Happy reading to you all! And if you enjoy word art, happy lettering, too.