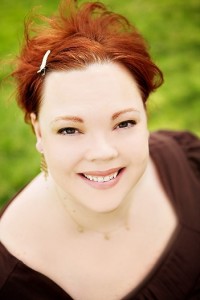 If you've visited the Contest page this month, you've seen my squee over Heather Snow's books. Heather writes smart, emotionally complex historical romances—and as dreamy and clever as her heroes are, it's her heroines who have really enthralled me. With their professions and ambitions (a chemist, a criminologist, and a counselor), they push the boundaries of Regency society but still feel perfect for their time period.
Intrigued? Oh, good. Heather has joined me today for a Q&A about her third book, SWEET MADNESS, which will be released on April 2. You might win a copy—just read on!
*     *     *
Heather, thank you for being here!
You have a background in chemistry, so it makes sense that your first heroine (Liliana of SWEET ENEMY) was also a chemist. How did you decide on the occupations of your next two heroines, a Regency-style criminologist and counselor?
The first scene from SWEET DECEPTION just sort of came to me…I saw a man coming home after years away to find his house full of people and a woman commanding them while scribbling on one of his priceless maps she'd unceremoniously yanked from its frame. Emma quickly became a brilliant criminologist who used maps and mathematics in an early form of geographic profiling to find a killer. Whereas I came up with the title for SWEET MADNESS first, which necessitated Penelope being a counselor!
How did you create SWEET MADNESS's unusual-yet-perfect-for-one-another wounded hero and strong heroine? Did you start with the character of the heroine, or the hero, or with a plot idea?
The idea actually started as a title. I had SWEET ENEMY and SWEET DECEPTION, and was trying to think of a third word that would juxtapose against sweet. When SWEET MADNESS popped into the running, I knew it was perfect and it just so happened that a secondary character from SWEET ENEMY was a very intuitive soul who would be the perfect heroine to heal a wounded war hero. As I began to think about Penelope and plot the story, I was able to create the perfect hero for her.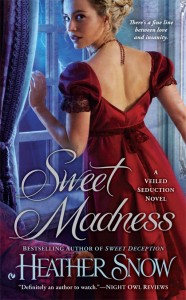 Which character or scene in SWEET MADNESSS was your favorite to write? Which was the most difficult?
My very favorite to write was the art therapy scene…
"I know that I said I was willing to do anything you suggested, but how exactly is this supposed to help?" Gabriel asked, eyeing Penelope skeptically.
It was mid-afternoon the following day and the two of them were alone in Somerton Park's long gallery. The massive high-ceilinged room was dotted with comfortable-looking tufted benches, chaise lounges, a walnut pianoforte and the occasional overstuffed chair. A fire crackled in the massive hearth, centered along the interior wall. The other side of the room boasted tall windows separated by scarcely a yard between them, and every available patch of wall space was covered with colorful portraits and landscapes in gilt frames of varying shapes and sizes.
But the only canvas that interested him at the moment was the blank one on the easel in front of him.
Penelope grinned at him as she removed the lid from a cylindrical earthenware container about the size of a large pumpkin.
"When I first started visiting the soldiers at the hospital, I really had no idea how to reach them." Dipping her hand into the pot, she withdrew a walnut-sized pouch and shook droplets of water from it until it stopped dripping. "Oftentimes we would just talk about our lives and interests. When they discovered I was an artist," she said, taking a pin and piercing the pouch, "they asked to see some of my work."
Red paint oozed out of the tiny hole she'd made, and the crisp tang of linseed oil reached his nose. Pen squeezed a dollop onto a wooden palette and then plugged the hole with a tack before placing the bladder of paint back into her container.
"After some great discussions of art, the men wanted a demonstration, so I did some painting for them." She withdrew another bladder and pricked it, this time eliciting a bright green. "Then I encouraged them to try, and over a period of weeks, I discovered some interesting things."
Green was replaced by yellow. "I already knew, you see, that the very act of painting made me feel better. I'd been pouring out my emotions onto the canvas since I'd picked up my first paintbrush. Thankfully"—she flashed him an eye-rolling grin—"the melodramatic canvases of my youth have long since been destroyed."
Blue paint now joined the others on the wood. "Anyway, as the men created their own works, I started noticing symbolism in some. Others were able to externalize their emotions through their art, and once they were on the canvas, separate themselves from the feelings enough to talk about them." Purple joined the mix. "And for some, painting simply improved their moods enough to make it through their day."
He crossed his arms and lowered his chin. "You expect me to . . . paint my feelings?"
What made it so fun to write, aside from how I get to use painting and symbolism, is that is a turning point scene. It is near the middle of the book and Penelope and Gabriel have been working through some dark things and are making progress in their goal to discover what has been causing his struggles. But something happens during this session that makes Penelope turn a hard eye on herself and you start seeing the vulnerabilities and hurts that she is hiding…and how Gabriel is going to be able to help her just as much as she can him.
The most difficult was the beginning. I really worried about how the reader would see Gabriel…I wanted to show his difficulties without making him seem weak, because he's not.
As the mother of two young boys—whom you call, in fine Regency fashion, the Heir and the Spare—how do you squish in writing time?
By not sleeping! The boys are 4 and 18 months, and VERY active! A challenging age for me to really get anything done while they are awake… I tried getting up early to write before they got up, but it was like they had a sixth sense…the earlier I got up, the earlier they got up! Now, my husband goes to bed with them at 8:30 and I sit down to write. It's not ideal, as it's really my poor husband who sacrifices his time with me, but we can see a time ahead when the boys go to school where I can shift to more daytime writing and have my evenings free to spend with my family again.
In honor of your counselor heroine, Lady Penelope Bridgeman, what's your favorite trick for managing stress (especially during deadline crunches)?
A hot bath and a good book! I'm SO lucky to have a jetted tub, and it's my favorite place to relax. I also dabbled in a little yoga while writing SWEET MADNESS. I'm not sure if it helped my stress level much, but it certainly did help me stretch out my spine and muscles that were tight from so long sitting in a chair writing!
What's next for you?
Vacation! My first book sold shortly after the Heir was born, and the second was written right after the birth of the Spare—while my husband was finishing up his masters on top of his full time career! He graduated right after I finished SWEET DECEPTION and we'd barely had time to enjoy a breather before I jumped into SWEET MADNESS. My family and I are looking forward to a couple of weeks on the beach together during the month of May. Then I'll get started on my new series…
Excellent! Enjoy that vacation, Heather, and thanks again for visiting today.
Now, readers, we have a question for you: what's YOUR favorite tip for managing stress? Share it below for a chance to win Heather's upcoming book, SWEET MADNESS. 
One winner will be chosen at random from all commenters on Saturday, March 30. This giveaway is open internationally, and the winner can choose print or ebook (if an ebook is available in the winner's territory).
And if you haven't entered the monthly contest yet, be sure to do that too, because Heather's giving away her first two romances over there!
*     *     *
Heather Snow is an award winning historical romance author with a degree in Chemistry who discovered she much preferred creating chemistry on the page, rather than in the lab.  She lives in the Midwest with her husband, two rambunctious boys and one very put upon cat.
Website: http://www.HeatherSnowBooks.com
Facebook: http://facebook.com/AuthorHeatherSnow
Twitter: http://twitter.com/HeatherSnowRW
Pinterest: http://pinterest.com/HeatherSnowRW/
Reader Salon Blog: http://HeatherSnowBooksReaderSalon.blogspot.com
Order SWEET MADNESS: Rainy Day Books • Amazon (Kindle Edition)
 • Amazon (Mass Market Paperback) • 
Barnes and Noble
 • Books-A-Million
 • IndieBound

 • The Book Depository • 
Walmart