Happy June! This month has been…a lot. But in a good way. 🙂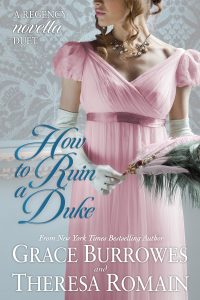 The biggest news is that How to Ruin a Duke is now available! This duo of new Regency novellas from Grace Burrowes and me released on June 11. This is the second time Grace and I have worked together, and I loved it just as much as our first collaboration (the now-retired The Duke's Bridle Path, which included my novella Desperately Seeking Scandal). My novella features a luthier heroine–she builds and repairs stringed instruments–and a hero who does a little bit of everything, especially avoid his past. Grace's story includes a duty-bound duke who becomes the subject of scandal–and the lady who just might be behind his undoing.
In other news, I've got the rights back to The Sport of Baronets. That novella is the first story in the Romance of the Turf series, which includes HEAs for the talented but troubled Chandler family at the heart of the Regency horse-racing world. The Sport of Baronets is Hannah and Bart's story, an enemies to lovers tale with a bit of inspiration from the Sherlock Holmes story "Silver Blaze."
Having the rights back means this: at first, the book was released through a publisher (in this case, Sourcebooks). Since it's been out for several years, they've agreed to return the right to publish the book, so now I can release it on my own. The Sport of Baronets will be unavailable for a while as Sourcebooks removes the current edition from sale and I work on a new one. Look for a rerelease of The Sport of Baronets in September–just in time to get you ready for the final Romance of the Turf story, His Wayward Bride, in October.
Yep, this is finally an update on His Wayward Bride! Jonah and Irene's story has been a long time coming, as you've seen hints in the earlier Romance of the Turf stories about Jonah's mysterious missing bride. Where has Irene been throughout the Romance of the Turf series? At last, you'll find out–and there's a big connection to Mrs. Brodie's Academy for Exceptional Young Ladies.
As always, this book will be able to stand on its own for readers who are new to the series. But if you've read the earlier Romance of the Turf books, you'll notice that all the ongoing plot threads are tied up. I'm planning on either October 15 or 22 as a release date for His Wayward Bride. If you're subscribed to my newsletter, you'll be notified when the release date is set and the book is available.
Outside of the book world, Little Miss R turned 11 this month (!!). That's not particularly little anymore, but I've become used to calling her that online, and Medium Miss R doesn't exactly roll off the tongue. She's home with me a lot this summer, which has delayed the deadline for His Wayward Bride but has been a delight. She still likes me and wants to be with me, which I'm not taking for granted as we move through the tweens!
To spend as much time as possible with my girl this summer, I've stepped back from regular posting on my Facebook page. I'm still active in my readers' group on Facebook, and I'd love to welcome you to be a member there for weekly giveaways and new posts nearly every weekday. I'm also popping up on Twitter sometimes, but in August, I'll take a complete online hiatus.
That's all the news for now! How's your summer going–or winter, if you're in the southern hemisphere?