Hello again, everyone! My August offline wasn't really a month off, but it allowed me some much-needed breathing room. Little Miss R started middle school, I continued working on His Wayward Bride for its November release, and I got The Sport of Baronets ready for reissue.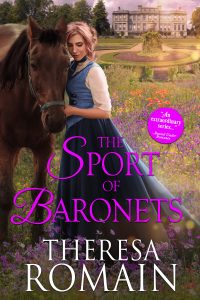 That's the big news so far this month: you can get Hannah and Bart's story again. It's been reissued with gorgeous cover art that reflects the importance of horses to the story—and to the series as a whole, since the Chandler family inhabits the heart of the Regency horse-racing world.
The Romance of the Turf series contains 5 stories:
*The Sport of Baronets, an enemies-to-lovers novella that introduces the Chandler family and gives youngest sibling Hannah her love story.
*A Gentleman's Game, a road romance featuring younger brother Nathaniel.
*Scandalous Ever After, a friends-to-lovers romance that was an NPR Best Book of 2017.
*The Way to a Gentleman's Heart, a second-chance romance novella that introduces Mrs. Brodie's Academy for Exceptional Young Ladies in a duo of the same name.
*And finally, His Wayward Bride will be coming your way on November 5.
The first excerpt from HWB appeared in Rose Lerner's Patreon newsletter last Wednesday. I posted the entire first scene on my site last Friday, and newsletter subscribers got to read the remainder of Chapter 1 that same day. HWB is still going through revision and editing, so these excerpts might not be 100% final, but they're close. I hope you've all enjoyed your first glimpse of Irene, the resourceful pickpocketing teacher heroine, and her mysterious marriage to Jonah Chandler.
A new cover is being created for HWB to better represent Irene as a biracial woman. And the promised print edition of The Sport of Baronets is in the works too! It's taking a while because I requested a custom size for the paperback. I want it to be mass market sized so it'll match the novels in the series. Picky? Maybe so, but think how pretty they'll look when they're all lined up on a bookshelf. 🙂
Hope September is going well for you! What have you been up to?