Readers, thanks for visiting! Today, Rose Lerner and I are chatting about our January historical romances. Hers is True Pretenses; mine is Secrets of a Scandalous Heiress. Both books feature heiress heroines, so we started there–but we soon discovered many more bookish things we wanted to talk about. Everything from character casting to mall singers to just WHO is a "champagne bottle of love" (Rose's phrase, and it is quite perfect).
This is part 1 of 2 of the conversation. You can find the rest on Rose's blog here. And please stick around to comment, because we're offering a book giveaway on each site!
A little orientation before we start:
In True Pretenses, a philanthropist heiress who needs to get her hands on her dowry agrees to a marriage of convenience with a con artist from the London slums. You can read the first chapter here: bit.ly/pretenses
And in Secrets of a Scandalous Heiress, a wild heroine creates a false identity for herself in Bath, where she meets her match in an Anglo-Indian hero with secrets of his own. Read the first chapter here: http://bit.ly/1qOjyAU
Rose's hero and heroine are named Ash and Lydia. Mine are Joss and Augusta. Ok, onward!
*     *     *
Rose Lerner: I was really amazed at how many themes our books turned out to have in common! Secrets of a Scandalous Heiress is not about con artists and yet it was all about lying and how it frees and constrains you, and the ways sneaky people use lying to trick themselves into being honest.
Theresa Romain: That's a cool observation. Your hero was going under a false name, while my heroine was. And they both came to regret it, but even so they wouldn't have gotten where they wanted to without it. Now I am sort of wanting a fic for Ash and Augusta. Sh, don't tell Joss and Lydia.
Rose: OMG WOULD READ. I feel like Joss and Lydia would probably also like each other!
Theresa: It's funny how we think our characters would fit together so well. I actually was thinking as I read of how much our heroes had in common socially. They're poor and outside the mainstream. I wonder if that goes well with an heiress heroine? Sort of leveling the power differential between men and women of the time.
Rose: I was thinking about that too. An heiress is rich/powerful, but usually she's also lacking in control over her life because her fortune is a dowry for when she marries, or it's held in trust. Meanwhile the hero is a man, but poor…Right off the bat it creates an interesting power balance.
Theresa: Yes, the guys we wanted our heiresses to choose were guys who wouldn't take that money for granted.
Rose: Yes! That is so true. They're both guys who really value that money, and guys who can see past it to the actual woman who possesses it.
Also Ash would be all about buying all of Augusta's soaps for Lydia. "How many different fancy things can you smell like at once? Only one way to find out!" Did you do research on Regency soaps and scents? Tell me everything!
Theresa: Yes! It all started with the sandalwood.

I wanted to make sure I wasn't talking about cosmetics that weren't in use at the time. A marvelous clear glycerine soap was invented near the end of the Regency (think Pears), but the word glycerine wasn't in common use. So I had to take that word out of Augusta's descriptions but I went ahead and gave the invention to her family's cosmetics company.
Rose: I really liked how the sandalwood thing wasn't a throwaway. Because if you look at Regency heroes, they mostly smell like…sandalwood, bergamot, leather, soap, clean linen, lemon or citrus…I can't think of anything else.
Theresa: Man. They smell like man.
Rose: Yes, of course! Also man. But then Augusta thought, "It was an unusual scent because it was expensive to import," and I thought, Ooooh!
Theresa: Smells are her wheelhouse.

Rose: Soap heiress strikes again!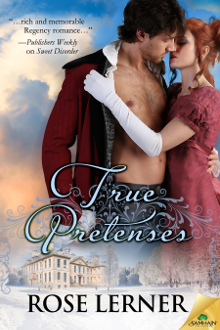 Theresa: And in True Pretenses, Lydia was such a domestic goddess. Not in the Martha Stewart way, but in the way she developed such a clear sense of the way she wanted to live.
Rose:

I think that's something she and Ash have in common, that they were determined to create a home–even though they conceptualized that very differently. I guess it comes from becoming, essentially, parents at a very young age. Lydia, because she comes from a much more stable and influential place, is able to expand that out to encompass an entire community. Whereas Ash is like MUST MAKE MY BROTHER RAFE FEEL SAFE and it stops there.
Theresa: I loved that parallel between Ash and Lydia, that their sibling relationships were so important. It was something they could immediately understand about each other despite their other differences.
Rose: It was just so fun to write two people who are caretakers…caretaking each other. No one's really been giving them that, which is part of why it's so important to them to give it to other people.
Theresa: Like Ash with the fortune. He'll never take Lydia's money for granted, and he'll never take her closeness and warmth for granted either.
Rose: Yes! Probably if they met at a less emotionally traumatic time for Ash, he'd be able to distance himself from it a little more, because I'm sure he's met marks who want to mother/father him before. But he's so lonely that he just can't resist.
Theresa: I loved how he was so hungry for love and cheerful and good with people. He could have gone so dark and bitter, but he was just…gah, adorable. I know, your heroes get called adorable all the time and I ought to think of a better word.
Rose: Adorable is my favorite word! I was seriously considering putting "strong heroines and adorable heroes" on my pens.
Theresa: I WANT THAT PEN I WOULD USE IT ALL THE TIME.
[Sidenote: Rose is still choosing her pen slogan. Suggestions welcome!]
Rose: That was something that really got to me about Joss, by the way: how alone he was. I mean, he really doesn't even like his cousin/employer, Lord Sutcliffe, and yet he longs for affection from him. Whereas Augusta grew up surrounded by affection and then suddenly lost it. So they're starving in very different ways.
Theresa: Yeah, if sibling relationships are the dominant ones in True Pretenses, in Secrets of a Scandalous Heiress it might be the parent-child relationship instead. Both Joss and Augusta are only children and orphans, but as a result of very different circumstances.
Rose: Do you think that's part of why Augusta spirals a little more, whereas Joss is a little better at soldiering on? Because she had that warmth growing up and is both less used to dealing without it, and also more able to feel safe being emotional?
Theresa: Absolutely. She lost everything at once, while Joss lost it in pieces. So if every loss is a grief, he did his grieving in slow bits over time, while she was almost crushed.
Rose: I thought it was really interesting the ways that Joss saw his mother in Augusta. That sounds really Freudian when I say it, but I really liked how part of why he was able to see Augusta as someone in need of sympathy even though she was so far "above" him was because she was an heiress alone in the world like his mom.
Theresa: Ha, I hadn't thought of that. I'm glad you didn't think it seemed Freudian.

I was focused more on the parallel between Augusta and Joss. Or should I say, the NOT parallel. Because he thinks she's above him because of her money, and she thinks he's above her because he's descended from a baron.
Rose: That was awesome. You juxtaposed it so well. I hadn't even really thought about how Joss is actually higher-born than her, because he felt so insecure, so when she thought "OMG he's so classy and aristocratic," it was a really cool paradigm shift–like, OH YEAH. But it never actually occurs to him. Like there's never a moment where he thinks she's doing something tacky or vulgar, really.
Theresa: Nah, he likes the vulgarity. It's honest! He realized, after talking to Lord Chatfield (who knows everything), "Oh, yeah. I actually have a lot to be grateful for." That was a shift that needed to happen in himself so he could feel worthy of a romance.
Rose: Yes! The moment where he realizes he could have been ordering himself tea all these years was sort of the culmination of that, I thought. That might have been my favorite moment in the book, btw. Because I was kind of shouting all through the book: JUST ORDER YOURSELF TEA! And him realizing that he could was not only really satisfying, but it brought home how he had never before felt like he could, how his idea of what was available to himself was just so fundamentally limited…Man, Ash would really need to avoid Lord Chatfield.
Theresa: Oh lordy. Everyone needs to avoid Lord Chatfield. Did you feel that way about Ash's character too, that he was limiting himself? He seems so confident as a con artist, but he has a deeply gentle nature. And I thought he didn't ever take a success for granted. Though he did take for granted that there would be rejection because of his Judaism.
Rose: Well…huh. I don't think it's really about being Jewish, because he grew up in a Jewish community and he already felt that way then.
Theresa: Oh, I didn't mean quite that. Just that he assumed no one would be glad to learn of his religion.
Rose: I think in Regency England, the odds are very low of meeting a Christian whose reaction to finding out you're Jewish isn't gross. Lydia reacted pretty badly at first. And I think he just was never interested in having that conversation or dealing with that rejection because 1) he hates rejection and 2) he was never trying to have any kind of deeper relationship with anyone.
Theresa: So no one would ever get to know him well enough to know anything meaningful about him. Ah, romance heroes. They make these plans…
*     *     *
For the rest of the conversation, visit Rose Lerner's blog! But before you go, please leave a comment so you can be entered in Rose's True Pretenses giveaway. Just for fun, since we talked so much about scent, we're wondering: what is your favorite scent for soap?
One random commenter will win a digital copy (winner's choice of e-format) of True Pretenses, which is out on January 13. This giveaway is open internationally. Winner will be chosen and notified on Monday, January 12.
Or if you'd like a sure thing, pre-order your own copy of True Pretenses: Kindle • Nook • Kobo • Samhain store
True Pretenses is the second of Rose's historical romances set in the town of Lively St. Lemeston. If you want to check out the first, Sweet Disorder is on sale for 99 cents everywhere! One of Publishers Weekly's Best Romances of 2014, it's the story of a wounded army officer who must find a husband for a prickly widow to help his brother's electoral campaign. Learn more here.