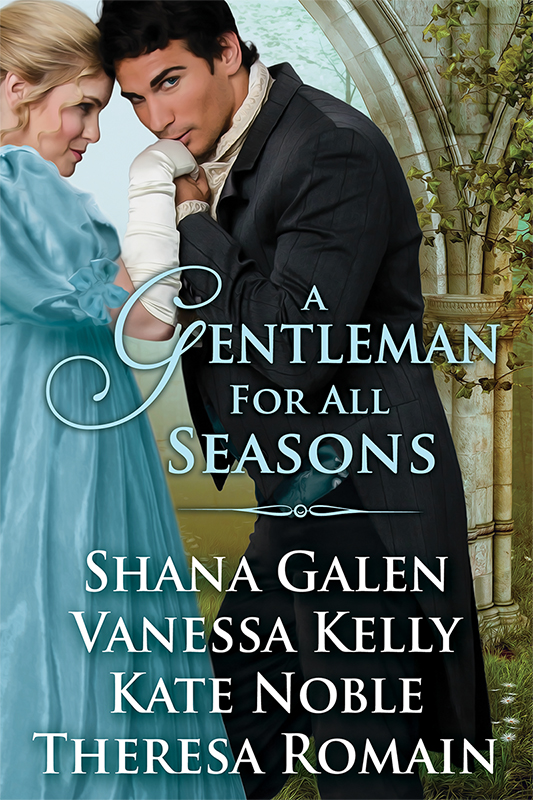 Today marks the release of A Gentleman for All Seasons, an original historical romance anthology that I had the pleasure of writing with Shana Galen, Vanessa Kelly, and Kate Noble. Through four linked novellas–one for each season of the year–we tell the love stories of four very different couples living in the village of Hemshawe. We had a great time bringing Hemshawe and its inhabitants to life, and we hope you will love reading about them!
You can order A Gentleman for All Seasons now through your favorite ebook retailers. If you prefer print, a beautiful trade paperback is available through Amazon.
Ebook: kindle • nook • kobo • ibooks • google
Print: amazon
To celebrate the release of this anthology, my fellow authors and I have lots of chances for you to win books! There's a contest going on now at Fresh Fiction. And we've lined up blog tour stops and articles, many of which have book giveaways. Hope to see you there!
11-9  Buried Under Romance
11-10  Ever After
11-11  Fresh Fiction blog
Lady Celeste Reads Romance
The Jaunty Quills
11-12  The Romance Dish
Herding Cats, Burning Soup
11-13  bookworm2bookworm
11-20 Gina Conkle's blog
Links will be added as posts go live.
Finally, if you've read A Gentleman for All Seasons and are curious about the settings and characters, check out my Pinterest board for some of the the visual inspirations for the anthology and my novella.
Happy reading!