A very happy holiday week to everyone celebrating Thanksgiving or Hanukkah (or both!). I hope you have safe travel, good food, good health, and a minimum of family drama.
Setting aside the biggies of health, safety, and love–which, make no mistake, are worth gratitude every day!–I thought I'd share a few book-related thanks with you guys.
My TBR pile: ok, yes, it's huge and tottering and can be a bit overwhelming. But it means that lots of stories I'm eager to read are being published, and that I have the resources to but them.
Microsoft Word: I've always used a Mac, and my transition from AppleWorks to Word (about 10 years ago) was an unwilling one. But Word and I have made friends. It holds my books in a format everyone in the publishing world can deal with. And in return, I've taught it Regency-speak. Yes, "damme" is a word. (For that matter, so is "Theresa." Our learning curve continues.)
The fact that mass market paperbacks are the perfect size to build with: I think this one is self-explanatory.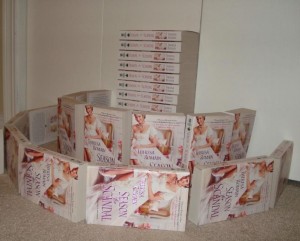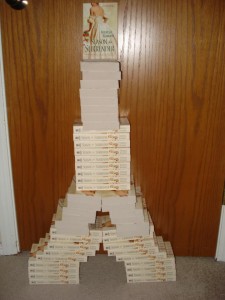 Readers: You, you, you. That TBR pile I mentioned? I know you guys have one too. You can choose to read anything in the world. So I'm deeply grateful every time someone chooses to read a book I wrote.
Thank you, and have a wonderful week with lots of good books to read.