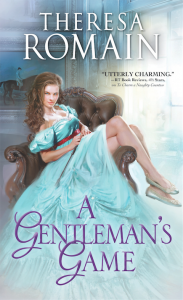 The post title really says it all. To keep my site up-to-date with the new releases coming your way this fall and winter, I've been posting excerpts like whoa this week. Today's is from the first Romance of the Turf novel, A Gentleman's Game, which is coming your way on February 1, 2016. That's not as far away as it sounds–less than four months! A Gentleman's Game follows the prequel novella, The Sport of Baronets, which will be out on November 3.
A Gentleman's Game was, for a variety of reasons, a difficult story to write. I've never had to do so much rewriting and revising! But I think that was for the best, and I'm very happy with the result. I'm eager for you all to meet Nathaniel and Rosalind–and Pale Marauder and Epigram, Farfalla and Sheltie, and all the other animals who play such an important role in the story.
The excerpt I just posted is the first scene from Chapter 1. It makes up about…oh, maybe 3/4 of the chapter's length. In a few more weeks, I'll post the rest. Be prepared to have what you thought you knew in the first scene turned on its head. Enjoy!