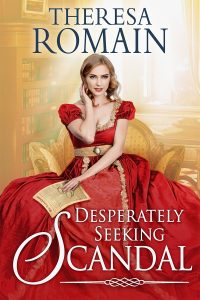 Hey everyone! I'm happy to announce that the novella
Desperately Seeking Scandal
is available again! This first appeared in the collection
The Duke's Bridle Path
, which Grace Burrowes and I wrote last year but which has since been retired. For a while, you haven't been able to get Ada and Colin's story, but now it's at all your favorite ebook retailers.
This was a fun one to write, with a fake relationship, an advice column, and a touch of enemies-to-lovers seductiveness. I hope you'll enjoy reading it! Of course, if you've read
The Duke's Bridle Path
, you've already got this story, but I won't protest if you want to get it again for the reissue's gorgeous cover art.
Coming soon for you, I've got a brand-new story! Shana Galen and I are cooking up a Regency duo called
Mrs. Brodie's Academy for Exceptional Young Ladies
. It will be coming your way this September and though it isn't yet up for pre-order, we've got lovely cover art to share.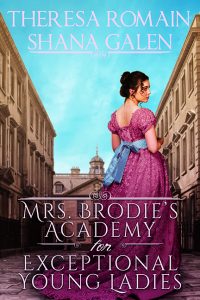 Shana's story links into her Survivors series, and mine connects to my Romance of the Turf series. We're excited to tell you more soon!
But wait, is there more cover art to share? Why, yes. Yes, there is. My most recent release,
Lady Rogue
, continues the Royal Rewards series, and I recently completed revisions on its follow-up.
Lady Notorious
, out at the end of next February, tells the story of unofficial Bow Street Runner Cass Benton and blithe ducal heir George, Lord Northbrook.
The book features early photographic experiments, a tontine, dog training, secret identities, and a secondary romance I truly loved writing. You can find lots of pre-order links
here
. And check out the cover art, which does a great job capturing the book's mystery and Cass's sense of mischief.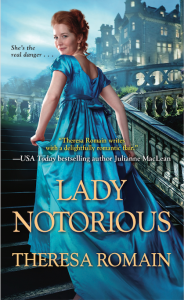 Isn't that lovely? I got the first look at the cover art while I was still writing the book, and I was able to put that scene–including the gorgeous blue gown–into the story.
To keep up with all the book news, you can check out my
newsletter
or find me on
BookBub
. Give me a follow and you'll be notified of new releases and ebook sales! I'd also like to welcome you to my
readers' group on Facebook
, where I offer weekly giveaways and love to chat about what's new in my books and in historical romance.
I haven't been online much for a few weeks, but that doesn't mean I haven't been working! My next novel for Kensington Publishing Corp., Lady Rogue, is now through revisions–which means we're on track for publication on April 24, 2018. Check out the lovely cover art:
I'm excited for you all to meet Isabel, a widow discovering her sense of adventure as she rebuilds her life. She finds her match in Callum Jenks, the blunt Bow Street Runner we first met in Passion Favors the Bold.
Lady Rogue straddles two series, or at least that's the way I'm thinking about it right now. (The marketing of the book is still TBD.) While it ties up some final plot threads from the Royal Rewards series, it also introduces a new cast of characters I'm calling the Roguish Runners. Their stories will continue in a second book, probably out in 2019. It's wild to be looking so far ahead, isn't it? But since the second book isn't written yet, I'm glad for the time!
Before Lady Rogue, I'll have other releases. First among them is The Duke's Bridle Path, a novella duo with Grace Burrowes. I adore her writing and am so glad to be working with her on this project. I'll post an excerpt from my novella, "Desperately Seeking Scandal," as soon as I can wiggle a little more time away from Little Miss R. Her summer childcare ended at the beginning of August, and school doesn't start for more than a week yet, so there's lots of mommy-daughter quality time going on. Great for the heart; not so fabulous for the website updates. 🙂